Ending weeks of speculation, Democratic presidential candidate Joe Biden announced on Tuesday he has selected Senator Kamala Harris as his running mate. If elected, Harris will become the first woman to hold the office of Vice President of the United States. She would also be the first Black VP, and the first person of Indian descent to hold the office. 
Here are three quick facts about Kamala Harris that airline workers might want to know.
FACT: Kamala Harris is part of the first presidential ticket endorsed directly by Machinists & Aerospace Workers Union members.
In the run-up to the primary season, Machinists & Aerospace Union members were asked to take part in a historic endorsement process that allowed front line members to vote for the candidate that would earn the support of the union. 
That process resulted in Joe Biden winning a majority of Democratic Party-affiliated members, who make up about 66% of the union membership. Donald Trump was the choice of Republicans, who make up about 34% of the union's membership. 
"Our union made it a priority in the 2020 election cycle to give IAM members a real say in who we endorse for president of the United States," said IAMAW International President Robert Martinez, when introducing the endorsement process. "Since May 2019, we have encouraged members from coast to coast to register and make their voices heard in this important decision. We also urged presidential candidates to listen to our membership and speak about the issues that IAM members believe are most critical."
Through state legislative councils and online voting, the Machinists & Aerospace Union upended decades of union endorsement practices, where leaders have traditionally met with candidates in private. The novel endorsement process attracted national media attention, becoming the focus of reporting from outlets such as Politico and Bloomberg. 
As Biden's running mate, Kamala Harris also receives the endorsement of the Machinists & Aerospace Workers Union. She will be the second woman endorsed for the Executive branch by the union, and the second person of color. 
FACT: In 2019, Kamala Harris Defended Machinists & Aerospace Union Organizing Efforts at Delta Air Lines.
Last summer, Delta executives responded to union organizing among ramp and flight attendants with an unlawful "Don't Risk It, Don't Sign It" anti-union campaign. The company's posters and flyers suggested workers should spend their money on video games and alcohol, rather than union dues. 
Senator Kamala Harris was among the loudest voices that called out executives for the blatantly unethical campaign.
"According to recent reports, Delta has engaged in a highly coordinated and strategic campaign – Don't Risk It. Don't Sign It. – that has intentionally interfered with its employees' legal right to unionize," Senator Harris wrote in a letter to Delta CEO Ed Bastian. "As part of this campaign, Delta has distributed fliers and posters aimed at dissuading unionization and instead suggesting that union dues would be better spent on "a new video game system with the latest hits," or "a few rounds for your buddies." Additionally, Delta has played anti-union advertisements continuously in employee break rooms and held weekly anti-union meetings."
Calling the "Don't Risk It. Don't Sign It" campaign "disingenuous, disrespectful, and misleading," Senator Harris made her support for airline workers' unions in clear and absolute terms. "Union participation can improve an employee's wages, health care, job security, workplace safety, and retirement benefits," she said. 
The letter from Senator Harris is archived HERE>
FACT: Kamala Harris Worked With Machinists & Aerospace Union Members To Prevent Airline Furloughs that Violated the CARES Act.
As the coronavirus pandemic decimated air travel, lawmakers awarded billions in payroll assistance to airlines to cover labor costs. Carriers promised not to conduct layoffs or furloughs in exchange for receiving the federal funding. 
While executives at airlines such as United attempted to furlough employees from full-time to part-time anyway, lawsuits and outrage from unions quickly reversed most of these decisions. Unfortunately, non-union and management jobs were still targeted for furloughs in violation of the CARES Act. While unions could defend themselves through the power of collective action, individual employees not represented by a union had no standing to force companies to obey the law. They ended up losing wages and benefits, and many found themselves thrown out of jobs they had held for most of their lives. 
In response, lawmakers, including Senator Kamala Harris, joined unions in a campaign to defend aviation workers. 
"You should not take one penny more of bailout funds unless you are prepared to protect your workers' jobs, pay, and benefits," a group of 12 Senators, including Harris, told airline CEOs at Delta and jetBlue in a letter. The Senators suggested that the move by airlines against their own workers might be illegal. General Vice President Sito Pantoja of the Machinists & Aerospace Union said, "The undeniable result is workers are involuntarily taking home less money to support their families. A pay cut is a pay cut."
Kamala Harris, one of the best-known Black politicians in America, has broken barriers throughout her career and has worked to forge strong alliances with unions. As a presidential candidate, she earned the endorsement of the United Farm Workers Union. Harris has called for a ban on "right to work" state laws and attended rallies supporting rideshare drivers at LAX Airport. "Everyone needs to understand in America — thank labor for that five-day work week. Thank labor for that eight-hour work day. Thank labor for that weekend and sick leave and holiday time. Thank organized labor," she told the crowd.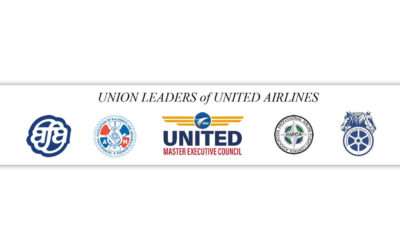 Important Letter from the...