The airline Paycheck Support Program contained in the CARES Act is set to expire on October 1, 2020. Carriers are making plans on how to deal with its loss, and the outlook doesn't look good for many IAM members and other airline workers.
American Airlines has announced it will lay off 19,000 workers on October 1. Southwest Airlines is eliminating 35,000 flights from its October schedule, and Air Wisconsin, Alaska Airlines, Delta Air Lines, ExpressJet, Hawaiian Airlines, Spirit Airlines, United Airlines, and United Ground Express have issued Worker Adjustment and Retraining Notifications (WARN). 
TAKE ACTION: Tell your Senators and Representative to support a clean extension of the airline Payroll Support Program
The only hope of staving off mass furloughs is Congress taking action to extend CARES Act protections for airline workers. What we need to save jobs is:
Increase PSP funding levels by an additional $32 billion (covering six months);
Extend requirements relating to involuntary furloughs, share repurchases, dividend payments, and collective bargaining agreements to March 31, 2021;
Require Treasury to immediately disburse funds to every air carrier and contractor that executed a Payroll Support Program Agreement, an amount equal to their current payroll support.
"These are not controversial goals," said IAM Transportation General Vice President Sito Pantoja. "We already have bipartisan support for a clean extension of the program, and President Trump has also signaled his support. What we need is for Congress to actually start doing its job and take action to save the livelihoods of hundreds of thousands of airline and aviation families."
"The airline industry is in dire need of immediate assistance from Congress," said IAM International President Robert Martinez Jr. "Their inaction is jeopardizing the futures of all airline workers. The Machinists have been leading this fight from the beginning, and we must continue to keep the pressure on Congress. Do not stop contacting your Representative and Senators until this extension is enacted."
U.S. Rep. Fred Keller (R-PA) recently led a bipartisan letter to American Airlines CEO Doug Parker, asking the carrier to continue its advocacy for the PSP extension and to keep communities and working families in mind when considering layoffs. Keller also led a separate letter to congressional leadership, highlighting the dire situation of the aviation industry and the need to include an extension of the PSP in future COVID-19 relief legislation.
TAKE ACTION: Tell your Senators and Representative to support a clean extension of the airline Payroll Support Program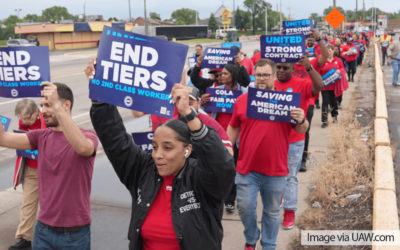 The United Auto Workers are...