IAMAW Local Lodge 1932 represents 1600 hard-working airline workers in the Los Angeles area. Customer service, ramp, stores and mechanics from 7 airlines are proud to call Local 1932 home. This week, Local 1932 President, Deryl Gaylord sits down with Dave Lehive to talk about the local, its members and the work it does in the industry and community.
Video Report: Spotlight on Southern California
[supsystic-social-sharing id='1']
This week, Deryl Gaylord, President of IAMAW Local 1932 describes the sprawling, 1600 worker-strong lodge, the work that it's doing, and the women and men that make it all possible.

IAM Local Lodge 1932 President Deryl Gaylord talks with Dave Lehive about one of the largest air transport locals in our union. Based in LAX, Local 1932 represents over 1,600 active members from every airline in the IAM, and their leadership reflects this diverse membership.

Brother Deryl Gaylord is a 22-year veteran of United Airlines who had served in a variety of roles in his local lodge when he joined the IAM organizing team in 2011 during the United/Continental campaign. That experience motivated him to become more active in union work, and after his return to LAX after 7 months on the road, he was elected to the grievance committee and also as vice president of Local 1932. He served as vice president for six years and is now on his first term as president of the local. 
Deryl recognized the work of union activists who blazed the trail before him, especially the late Stephen Cooke, who served as president of Local 1932 and whose legacy benefits IAM members to this day. He also gives credit to committee chairs, EAP representatives, and all the active Local 1932 members who keep doing far-reaching work in the City of Angels.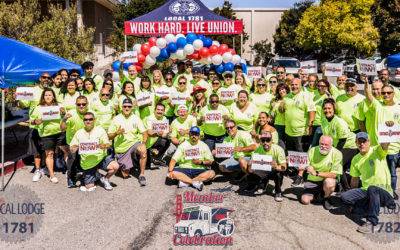 CONTRACT NOW!: Machinists...