/* social sharing plugin styles */ .dd-spl3 .supsystic-social-sharing a { background-color: #0c0c0d!important; color: #cf7d72!important; margin-left: 5px; margin-right: 5px; } .dd-spl3 .dd-share .supsystic-social-sharing a.social-sharing-button.sharer-flat.facebook:hover, .dd-spl3 .dd-share .supsystic-social-sharing a.social-sharing-button.sharer-flat.twitter:hover, .dd-spl3 .dd-share .supsystic-social-sharing a.social-sharing-button.sharer-flat.pinterest:hover, .dd-spl3 .dd-share .supsystic-social-sharing a.social-sharing-button.sharer-flat.stumbleupon:hover { background-color: #0c0c0d!important; } .dd-spl3 .supsystic-social-sharing .sharer-flat.sharer-flat-8 { width: auto!important; } /* style the category links */ .dd-spl3 .dd-categories a { color: #cf7d72; } .dd-spl3 p.et_pb_title_meta_container { padding-bottom: 5px; } .dd-spl3 .dd-categories a:hover, .dd-meta-author a:hover { opacity: 0.66; } /* set divider margin */ .dd-spl3 .dd-divider { margin-bottom: 0!important; } /* increase paragraph padding */ .dd-spl3 .dd-post p { padding-bottom: 2em; } /* style the comment form */ .dd-spl3 .dd-comment-form .form-submit { float: none; } .dd-spl3 .dd-comment-form.et_pb_comments_0 .et_pb_button, .dd-spl3 .dd-comment-form.et_pb_comments_0 .et_pb_button:hover { padding: 9px 20px!important; } /* responsive media queries */ @media only screen and (min-width: 981px) { /* Remove default padding from body area on desktop*/ .single #left-area { padding-bottom: 0; } } @media only screen and (max-width: 479px) { /* remove boxed layout effect on mobile*/ .dd-spl3 .dd-row { width: 100%!important; } }
[supsystic-social-sharing id='3']
Machinists Union Successful in Clearing First Hurdle Toward Aerospace Worker Relief
In a big step toward relief for the tens of thousands of Machinists Union members working in the aerospace industry, a payroll support fund to protect aviation manufacturing jobs has been included in the House's omnibus reconciliation package aimed at COVID relief.The IAM Legislative Department and members across the country have been pushing Congress to include these provisions in any relief package that is passed.
"Machinists Union members are the most skilled and dedicated aerospace and defense workers in the world," said IAM International President Robert Martinez Jr. "We must do everything we can to preserve such a critical workforce through this crisis and be ready for growth when it passes. As the largest aerospace and defense union in North America, we applaud Reps. Larsen and Estes, Sens. Cantwell and Moran, and others who are championing this bipartisan, worker-first and desperately needed legislation."
The provision would provide a federal cost-share program to retain aerospace workers who are at risk of being furloughed and recall workers who were furloughed due to the drastic reduction in air travel since the COVID-19 pandemic began.
Although this is move in the right direction, we must continue to apply pressure to Congress. Call your Representative at 202-224-3121to urge them to include the Aviation Manufacturing Jobs Protection Act of 2021, and save thousands of crucial aerospace jobs.
TAKE ACTION: Tell Your U.S. Senators and Representative to support the Aviation Manufacturing Jobs Protection Act of 2021.
The IAM partnered with Aerospace Industries Association (AIA), the Aeronautical Repair Station Association (ARSA), the General Aviation Manufacturers Association (GAMA) and the National Defense Industrial Association (NDIA) in the effort to secure financial relief for workers.
The Machinists Union has been fighting to secure funding to save IAM jobs in many different troubled industries included in the next round of COVID relief.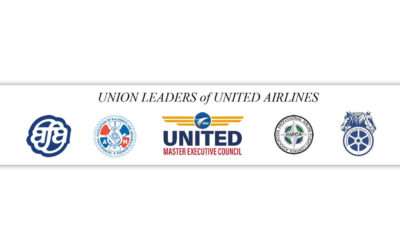 Important Letter from the...