/* Post title separator line with icon */ .dd-spl4 .dd-divider-container { width: 66%; max-width: 800px; align-items: center; display: flex; flex-flow: row nowrap; margin: auto; } .dd-spl4 .dd-sep-holder { flex: 1 1 auto; height: 1px; min-width: 10%; position: relative; } .dd-spl4 .dd-sep-lines { border-top-style: solid; border-top-width: 1px; border-top-color: #fff; display: block; height: 1px; position: relative; top: 1px; width: 100% } .dd-spl4 .dd-icon-holder { margin: 0 5px!important; } .dd-spl4 .dd-icon-inner { line-height: 1; } .dd-spl4 .dd-icon-inner i { color: #fff; font-size: 27px; height: 1em; width: 1em; text-align: center; } .dd-spl4 .dd-icon-inner .et-pb-icon::before { content: "e0dc"; /* Change this to use a different ETModules character */ } /* Social sharing plugin styles */ .dd-spl4 .supsystic-social-sharing a { background-color: #0c0c0d!important; margin-left: 10px; margin-right: 10px; } .dd-spl4 .dd-share .supsystic-social-sharing a.social-sharing-button.sharer-flat.facebook:hover, .dd-spl4 .dd-share .supsystic-social-sharing a.social-sharing-button.sharer-flat.twitter:hover, .dd-spl4 .dd-share .supsystic-social-sharing a.social-sharing-button.sharer-flat.googleplus:hover, .dd-spl4 .dd-share .supsystic-social-sharing a.social-sharing-button.sharer-flat.pinterest:hover, .dd-spl4 .dd-share .supsystic-social-sharing a.social-sharing-button.sharer-flat.delicious:hover { background-color: #0c0c0d!important; opacity: 0.66; } /* increase paragraph padding */ .dd-spl4 .dd-post p { padding-bottom: 2em; } /* style the comment form */ .dd-spl4 .dd-comment-form .form-submit { float: none; } .dd-spl4 .dd-comment-form.et_pb_comments_0 .et_pb_button, .dd-spl4 .dd-comment-form.et_pb_comments_0 .et_pb_button:hover { padding: 9px 20px!important; } /* responsive media queries */ @media only screen and (min-width: 981px) { /* Remove default padding from body area on desktop*/ .single #left-area { padding-bottom: 0; } } @media only screen and (max-width: 479px) { /* remove boxed layout effect on mobile*/ .dd-spl4 .dd-row { width: 100%!important; } }
Letters: Vaccinations Are Happening
[supsystic-social-sharing id='4']
Letters: One Shot From a More Normal Life
I was able to get vaccinated on Sunday at the Clinic in Chicago. I got the single-dose Johnson & Johnson vaccine, but I would have been happy to get any of the approved vaccines that are available.  I would like to thank District 141 and United for helping to make this happen. 
There are three reasons I opted to receive the shot. First off, I do not want to get Covid-19. 
I have not seen my 89-year-old father since January of last year, and this separation has been very hard on our family.  My dad lives in a healthcare facility in SAN, and the risks to the residents were too great to allow visitors like me.
He has told me that the isolation that he has endured over the past year has been incredibly painful. He compares it to his experiences on the front lines during the Korean War. 
He has received both his shots and looks forward to seeing us in the very near future face to face once again. Now that I'm vaccinated as well, our family can be together, in the same place again. This is a major step towards getting back to a normal life.
I also enjoy traveling when it is vacation time. Wherever travelers want to go, getting there will be easier with a vaccination card in hand.
It's been nearly 24 hours since getting my shot, and I have had no side effects at all. Not even a sore arm. If anything, I feel as if a heavy burden has been lifted from me, because it has. I urge everyone to get vaccinated as soon as it's your turn and help other people get vaccinated if you can. You won't believe how good it feels to have this pandemic behind you. 
William Salo,
IAMAW District 141 Safety Director, United Airlines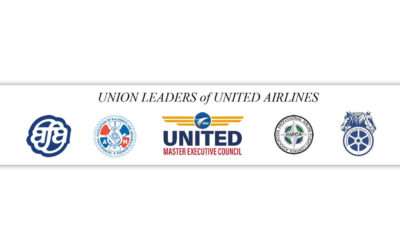 Important Letter from the...