/* social sharing plugin styles */ .dd-spl3 .supsystic-social-sharing a { background-color: #0c0c0d!important; color: #cf7d72!important; margin-left: 5px; margin-right: 5px; } .dd-spl3 .dd-share .supsystic-social-sharing a.social-sharing-button.sharer-flat.facebook:hover, .dd-spl3 .dd-share .supsystic-social-sharing a.social-sharing-button.sharer-flat.twitter:hover, .dd-spl3 .dd-share .supsystic-social-sharing a.social-sharing-button.sharer-flat.pinterest:hover, .dd-spl3 .dd-share .supsystic-social-sharing a.social-sharing-button.sharer-flat.stumbleupon:hover { background-color: #0c0c0d!important; } .dd-spl3 .supsystic-social-sharing .sharer-flat.sharer-flat-8 { width: auto!important; } /* style the category links */ .dd-spl3 .dd-categories a { color: #cf7d72; } .dd-spl3 p.et_pb_title_meta_container { padding-bottom: 5px; } .dd-spl3 .dd-categories a:hover, .dd-meta-author a:hover { opacity: 0.66; } /* set divider margin */ .dd-spl3 .dd-divider { margin-bottom: 0!important; } /* increase paragraph padding */ .dd-spl3 .dd-post p { padding-bottom: 2em; } /* style the comment form */ .dd-spl3 .dd-comment-form .form-submit { float: none; } .dd-spl3 .dd-comment-form.et_pb_comments_0 .et_pb_button, .dd-spl3 .dd-comment-form.et_pb_comments_0 .et_pb_button:hover { padding: 9px 20px!important; } /* responsive media queries */ @media only screen and (min-width: 981px) { /* Remove default padding from body area on desktop*/ .single #left-area { padding-bottom: 0; } } @media only screen and (max-width: 479px) { /* remove boxed layout effect on mobile*/ .dd-spl3 .dd-row { width: 100%!important; } }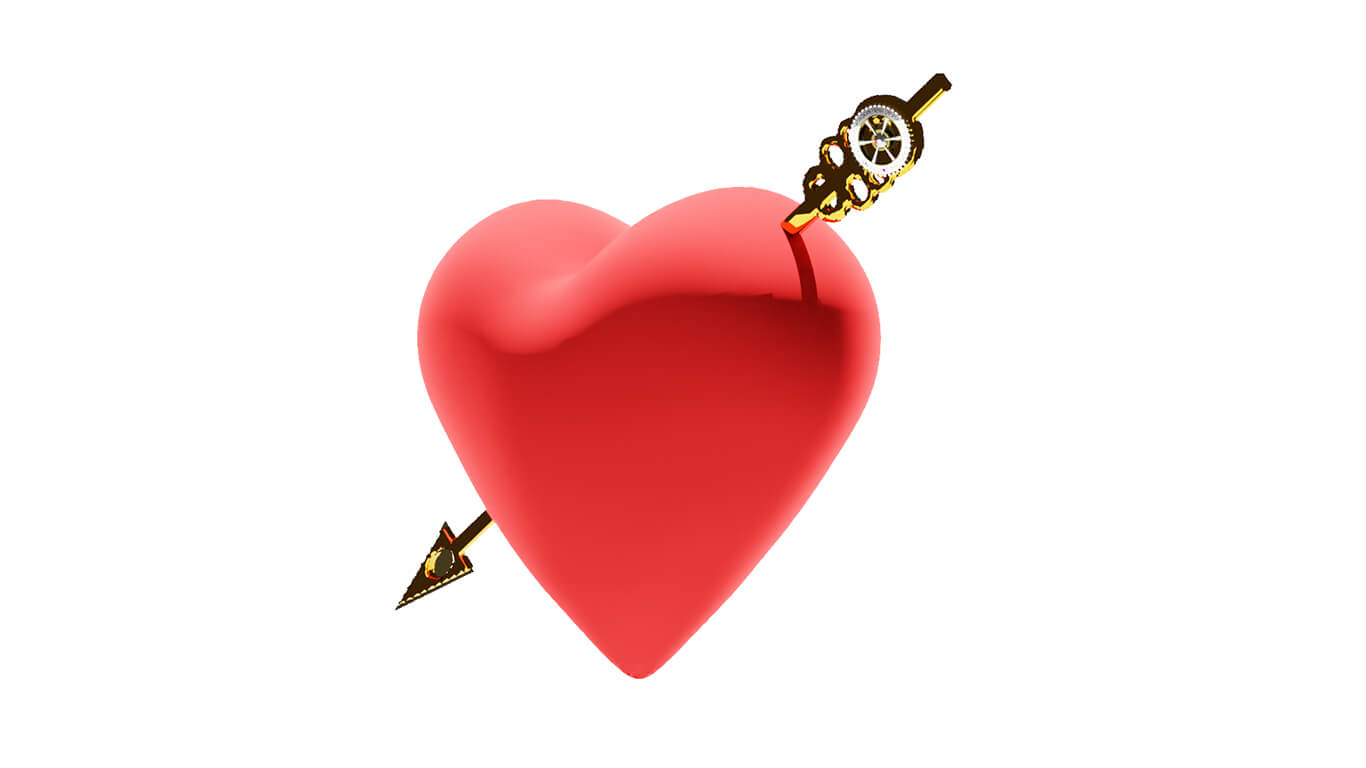 [supsystic-social-sharing id='3']
Like everything else during this past year, Valentine's Day 2021 will look a little different. At a time when we are spending a lot more time at home, we asked a few couples in the IAM who are happy after years of balancing their work and home lives together how they met and how they keep love alive.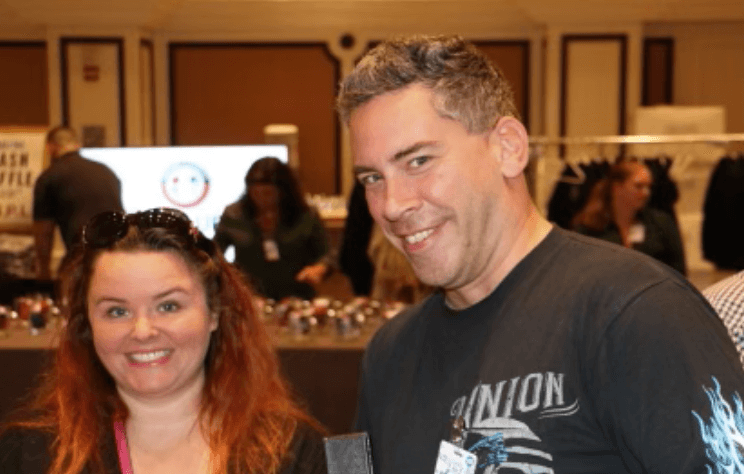 Elizabeth Groner Rosario and Sean Rosario
Finding The One in 100  
Elizabeth Groner was happy to join the selection committee for the United 100 rewards program, looking for good news after a particularly tough year. After United cut flights at her home city of Cleveland by more than half, she had transferred to Washington Dulles Airport to avoid being furloughed. Sharing a townhouse with coworkers and commuting to her home in Cleveland, Elizabeth said that at that time, "looking for love was not on the agenda."
Sean Rosario, a Lead Ramp Services Agent and Local 914 Shop Steward from Newark, had been asking other committee members about Elizabeth when he started a conversation with her after a meeting. Soon they found themselves flying almost every week to see each other in Virginia, Cleveland, and Newark. In the end, Sean and New Jersey won Elizabeth's heart.
Two months after their engagement, Elizabeth was offered a full-time position as a Customer Service Agent in Newark. She joined Local 914 in 2017, determined to "do more" in her union, and she now serves as Shop Steward and Local 914 Communicator. Sean is the Local 914 Educator and Auditor, and they are both members of the EWR Safety Committee.
"I am so happy that Sean encouraged me to get more involved in the union," said Elizabeth. "I feel so much more connected, and I love that we can share this work too."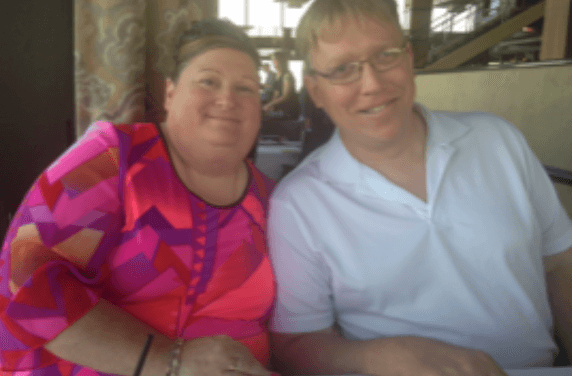 Sandra and Eric Niedermair 
Love is the Shield From the Storms
Sandra and Eric Niedermair met while working at Washington National Airport (DCA), where USAirways operated a hub in the late 1990s. In that "melting pot" where different workgroups shared break rooms, Sandy, a Crew Chief and Stock Clerk, and Eric, a Ramp Services Agent, first noticed each other. They began seeing each other casually outside of work, and Sandy says that it took Eric a long time to realize that she liked him, but he overcame his initial shyness and they dated for a year and a half before getting married in October 2001.
As newlyweds, they navigated the turbulent years following the September 11th attacks, and after surviving bankruptcies, mergers, and the resulting furloughs at the airline, they ended up at Philadelphia International Airport. "That was the only place we could hold together," said Sandy. 
At Liberty Bell Local 1776, Sandy and Eric became more active in their union, and today they are both members of the IAM Safety Team. Sandy also serves as Committeeperson and chairs the local's Women's Committee. Eric said that some safety advocates see them as a "package deal," because they "bounce ideas off each other," when addressing safety issues. But Sandy said that if an argument gets heated, they remind their coworkers about their rule: disagreements at work are strictly about work, never personal. It has worked beautifully for almost 20 years.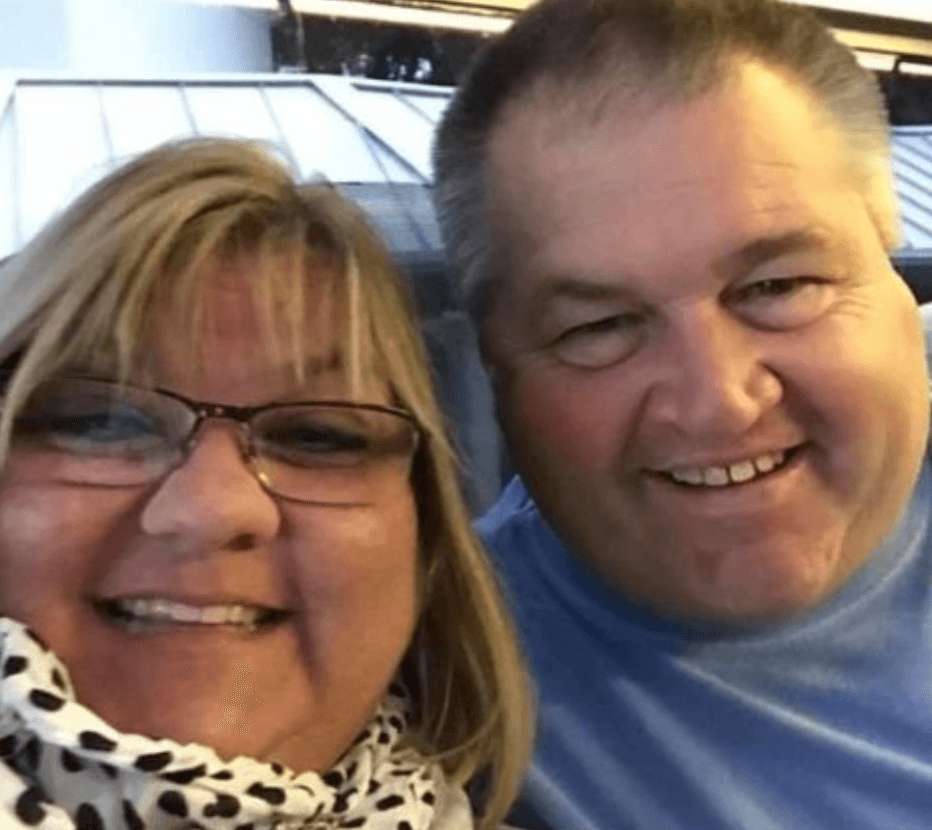 This did not stay in Vegas
Donna and Erik Stenberg met on a trip to Las Vegas with a group of coworkers from United Airlines and fell in love on the Las Vegas Strip. They both worked at Chicago O'Hare, where Donna was a manpower planner for Ramp and Cabin Services, and Erik worked as a Ramp Services Agent and IAM Shop Steward. One night while walking the Strip, Donna slipped and fell, and decided to go home early. Eric already had plans to return home early, but after they flew together back to ORD, he drove her home to make sure she made it safely. In a whirlwind romance, they got engaged six months after they met, and were married a year later. 
Donna later transferred to Customer Service, where she took an active role in organizing her workgroup to join the IAM in 1999. Both Donna and Erik served as Shop Stewards and on the IAM Safety Committee. Erik later became a Safety Advocate and was elected President of Local 1487 in Chicago. In 2008, he was elected Assistant General Chair of District 141, and currently also serves as the district's Safety Chairman. 
Donna and Erik have been happily married for 25 years and have a 22-year-old son, whom Donna says is "the best gift I've ever received."   
To see the couples profiled last year, click here. Are you and your significant other members of District 141? Let us know and we will feature you in a future love story. Happy Valentine's Day!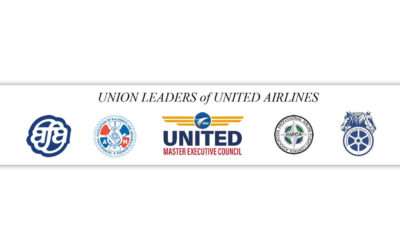 Important Letter from the...