141 Report: New Jersey State Council of Machinists President, Ines Garcia-Keim
New Jersey State Council's First Woman President Discusses the Importance of Regular Communication With Lawmakers, her career and why unions are still relevant. 
Like many airline workers, Sister Ines Garcia-Keim began her career at Continental Airlines in 1988 thinking she would only be there for a short time while she looked for another job. She enjoyed the work, and the flexibility suited her as a working mom. A union supporter for many years, she was excited to put her skills and experience in grassroots organizing to work when she joined the IAM after the merger of Continental and United Airlines in 2011, and became an active member of Local 914 in Newark, New Jersey. Today, she leads the Legislative Committee at her local, and is the first woman elected President of the New Jersey State Council of Machinists. 
Ines served as Shop Steward for her Customer Service group at United, and was recruited in 2016 by District 141 as an organizer for the campaign at jetBlue. She worked writing copy for organizing flyers, and two years later, District 141 PDGC Mike Klemm appointed her as a District Communications Representative. Ines completed the Leadership Training in Spanish at the Winpisinger Center, where she serves as a member of the Spanish Leadership Training Group. 
She is grateful to IAMAW Organizing Director Vinny Addeo and to District 141 AGC Rich Creighton for encouraging her to become active in her union, and works to pay it forward by mentoring younger members, especially women, to get more involved in the IAM.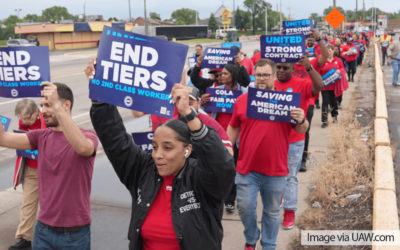 The United Auto Workers are...