The 141 Report featured guest this week is John Martinez, President of Local Lodge 1886, representing workers at DIA. 
141 Report: John Martinez, President of Local 1886 in Denver
This week Dave travels to the Mile High City of Denver, Colorado, to speak with John Martinez, President of IAM Local Lodge 1886.
A native New Yorker, John moved to Denver searching for job opportunities, and just a few years after he began working at United, his coworkers suggested his "vocal" style would make him a good union representative. Brother John Martinez has held positions as Shop Steward, Grievance Committee Rep, and also served as Local 1886 Trustee and Vice President before he was elected President in 2011. Now serving his third term as president, he has broadened his activism in the Colorado AFL-CIO and also as the Secretary-Treasurer of the Colorado State Council of Machinists.
While DEN continues to expand air service and has mostly avoided furloughs, John shares the concerns that every airline worker felt at the height of the pandemic. Regardless of seniority, the pain was felt by everyone who worried about the future of their livelihoods, but John points out the important role union activism and solidarity play in protecting and supporting every worker. He lobbied elected officials to support the Payroll Support Program and took part in activities to help elect pro-labor representatives in Colorado. He said he plans to continue to be involved as a union activist "for the rest of my career."
John and the members of Local 1886 are looking forward to resuming in-person events, and have begun holding shop steward meetings following strict protocols. He is hoping they can begin holding retiree luncheons again soon and invites everyone to the Local 1886 Golf Tournament to benefit Guide Dogs of America, scheduled for June 25.    
This Local's emphasis going into 2021, according to Martinez, is on removing barriers to activism and participation for the front-line members. Due to the pandemic, the Local was forced to cut back on several committee activities. Among these were the popular Retirees Committee, which was a hard blow for many members. Restoring these opportunities is going to be a major focus for the Local.
If you are a member of Denver Local 1886 and would like to volunteer, please contact President Martinez at the Local 1886 Website by CLICKING HERE >>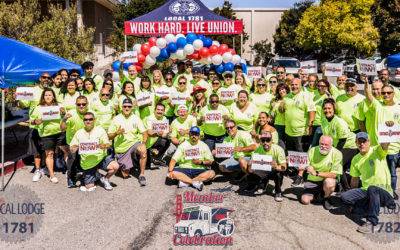 CONTRACT NOW!: Machinists...