IAM members in Georgia and from across the country are voluntarily campaigning for two pro-labor candidates in Georgia.  The race is particularly crucial for union members, since it will decide which party controls the closely-divided Senate.
Machinists Mobilize for Pro-Worker Candidates in Georgia
[supsystic-social-sharing id='1']
The IAMAW is urging members to pack the polls and elect two pro-worker US Senators: John Ossoff and Rev. Rafael Warnock, to carry out a working family agenda in Washington.
Union members believe that a progressive Senate will do a better job of solving critical problems like the COVID-19 Pandemic and rebuilding the economy, top concerns for IAMAW District 112 President Reggie Dixon and Assistant to the President (IAMAW District 19) Andrew Sandberg. "We're coming up with more positivve cases, and more deaths, because of the way this virus is being handled… or not handled," said Sandberg.
IAM Political advocates also want Congress to pass the PRO Act, which will ban anti-union "Right to Work" laws nationwide. The bill has already passed the House of Representatives and could pass the Senate if Ossof and Warnock win in the Georgia runoffs. "This is one of the most important peices of legislation to come down for unions in 80 years," said Jim Clements, the Georgia State Council of Machinists Presidents. "I have not seen anything that has the potential to have as much impact on me personally, on everybody that works in my shop, and everybody that works in a union or wants to work in a union," he said.
"This is the future of what could happen to unions," said IAMAW District 141 Legislative Director, David Roderick. "I really don't want to see the demise of unions," he continued.
Along with the anti-worker JANUS v AFSCME Supreme Court Decision, Right to Work Laws have made it possible to confiscate union property, including services and expertise, without paying for their use. Under these laws, union members must perform work for free, on demand, a set-up intended to bankrupt employee groups. Shifting control of the Senate could reverse these policies.
Early voting in Georgia begins on December 14.
In Georgia, runoff elections occur when candidates do not win a required majority of votes in a regular election. The US Senate is closely divided, and if both Ossoff and Warnock win in the Peach State, Democrats will hold a slight majority.
To learn more about how to get involved in IAMAW Legislative Action, or to get more information about how the MNPL is funded and operates, contact IAMAW District 141 Legislative Director, David Roderick at IAM141.org/Advocacy.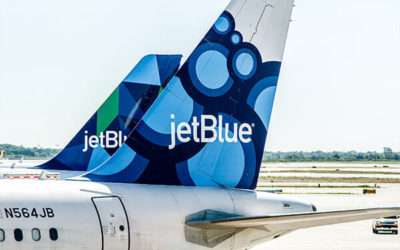 The JetBlue-Spirit Merger...