/* social sharing plugin styles */ .dd-spl3 .supsystic-social-sharing a { background-color: #0c0c0d!important; color: #cf7d72!important; margin-left: 5px; margin-right: 5px; } .dd-spl3 .dd-share .supsystic-social-sharing a.social-sharing-button.sharer-flat.facebook:hover, .dd-spl3 .dd-share .supsystic-social-sharing a.social-sharing-button.sharer-flat.twitter:hover, .dd-spl3 .dd-share .supsystic-social-sharing a.social-sharing-button.sharer-flat.pinterest:hover, .dd-spl3 .dd-share .supsystic-social-sharing a.social-sharing-button.sharer-flat.stumbleupon:hover { background-color: #0c0c0d!important; } .dd-spl3 .supsystic-social-sharing .sharer-flat.sharer-flat-8 { width: auto!important; } /* style the category links */ .dd-spl3 .dd-categories a { color: #cf7d72; } .dd-spl3 p.et_pb_title_meta_container { padding-bottom: 5px; } .dd-spl3 .dd-categories a:hover, .dd-meta-author a:hover { opacity: 0.66; } /* set divider margin */ .dd-spl3 .dd-divider { margin-bottom: 0!important; } /* increase paragraph padding */ .dd-spl3 .dd-post p { padding-bottom: 2em; } /* style the comment form */ .dd-spl3 .dd-comment-form .form-submit { float: none; } .dd-spl3 .dd-comment-form.et_pb_comments_0 .et_pb_button, .dd-spl3 .dd-comment-form.et_pb_comments_0 .et_pb_button:hover { padding: 9px 20px!important; } /* responsive media queries */ @media only screen and (min-width: 981px) { /* Remove default padding from body area on desktop*/ .single #left-area { padding-bottom: 0; } } @media only screen and (max-width: 479px) { /* remove boxed layout effect on mobile*/ .dd-spl3 .dd-row { width: 100%!important; } }
Machinists in the House as Trillion-Dollar Infrastructure Bill is Signed
[supsystic-social-sharing id='3']
The Machinists Non Partisan Political League seeks to advance public policy that benefits airline and aerospace workers. To support the work of the MNPL, please consider recurring, automatic donations of any amount today. Click Here to start supporting this important work.
The International Association of Machinists and Aerospace Workers were present Monday as President Joe Biden signed the $1.2 Trillion Infrastructure Investment and Jobs Act on the South Lawn of the White House. The union joined other labor groups, lawmakers, governors, and others who the White House had invited to attend the event. 
"Getting this infrastructure bill passed has been a major focus for our union," said David Roderick, District 141 Legislative Director with the Machinists Union. "Our members have been out there making phone calls, writing letters and meeting with lawmakers, trying to make the case that now is the time to really invest in America."
Describing the experience of attending the signing ceremony as an "honor of a lifetime," Roderick was among a delegation from the Machinists Union invited to attend the signing of the legislation, which marked the most significant single investment in transportation in at least half a century. The bill will provide  $25 billion to modernize America's increasingly outdated airports, where tens of thousands of Machinists Union members work.
According to multiple polls, not one airport in the United States today ranks in the top ten or even the top twenty best airports for travelers, despite being the birthplace of aviation. To make matters much worse, U.S. Airports are overcrowded and increasingly unable to accommodate the number of passengers that need to use them. "The United States built modern aviation, but our airports lag far behind our competitors," the White House said in a statement on the bill. "Modern, resilient, and sustainable port, airport, and freight infrastructure will support U.S. competitiveness by removing bottlenecks and expediting commerce and reduce the environmental impact on neighboring communities," the statement continued.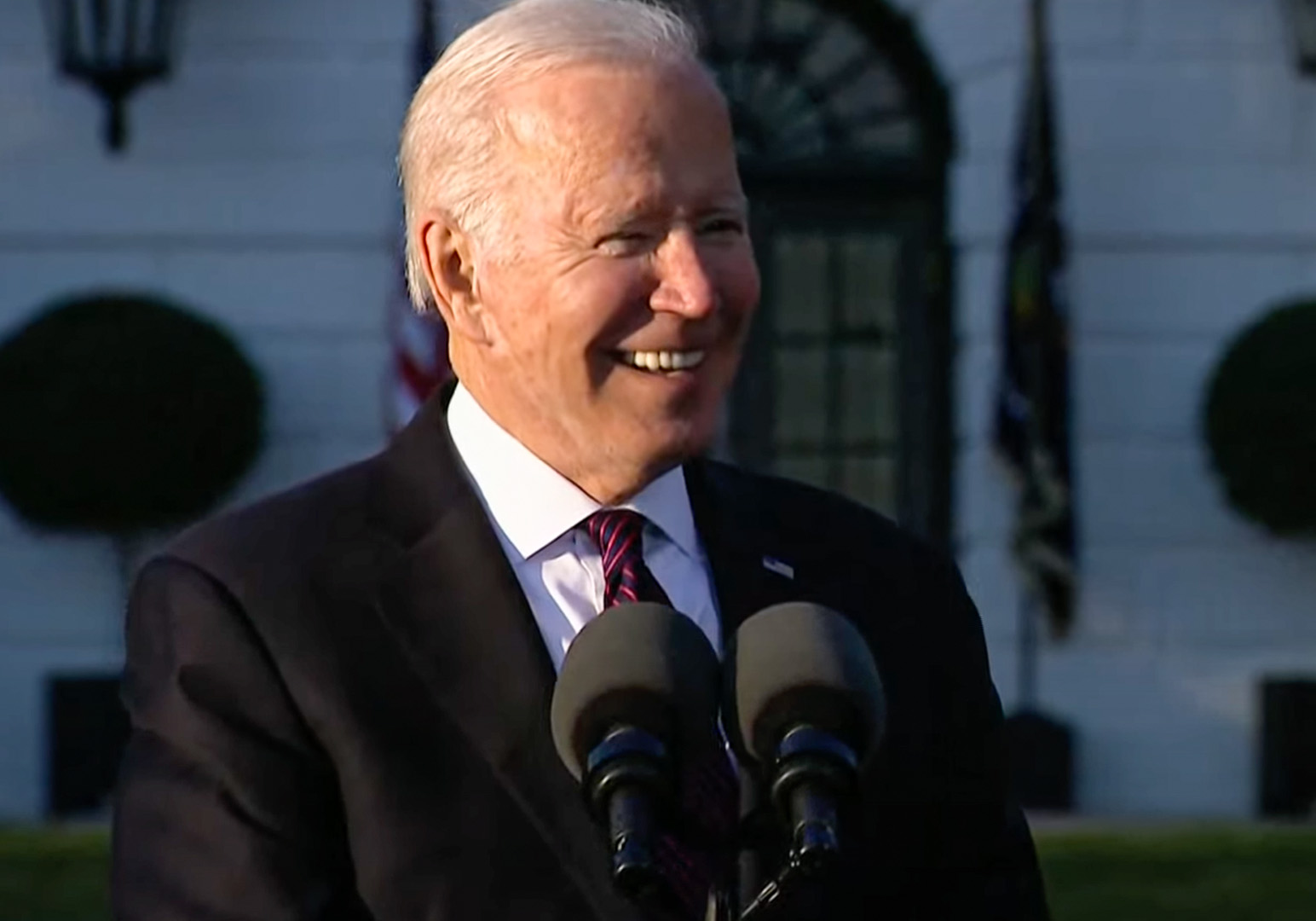 "I especially want to thank Organized Labor, who understood that this is about jobs. You all stood up."
-President Joe Biden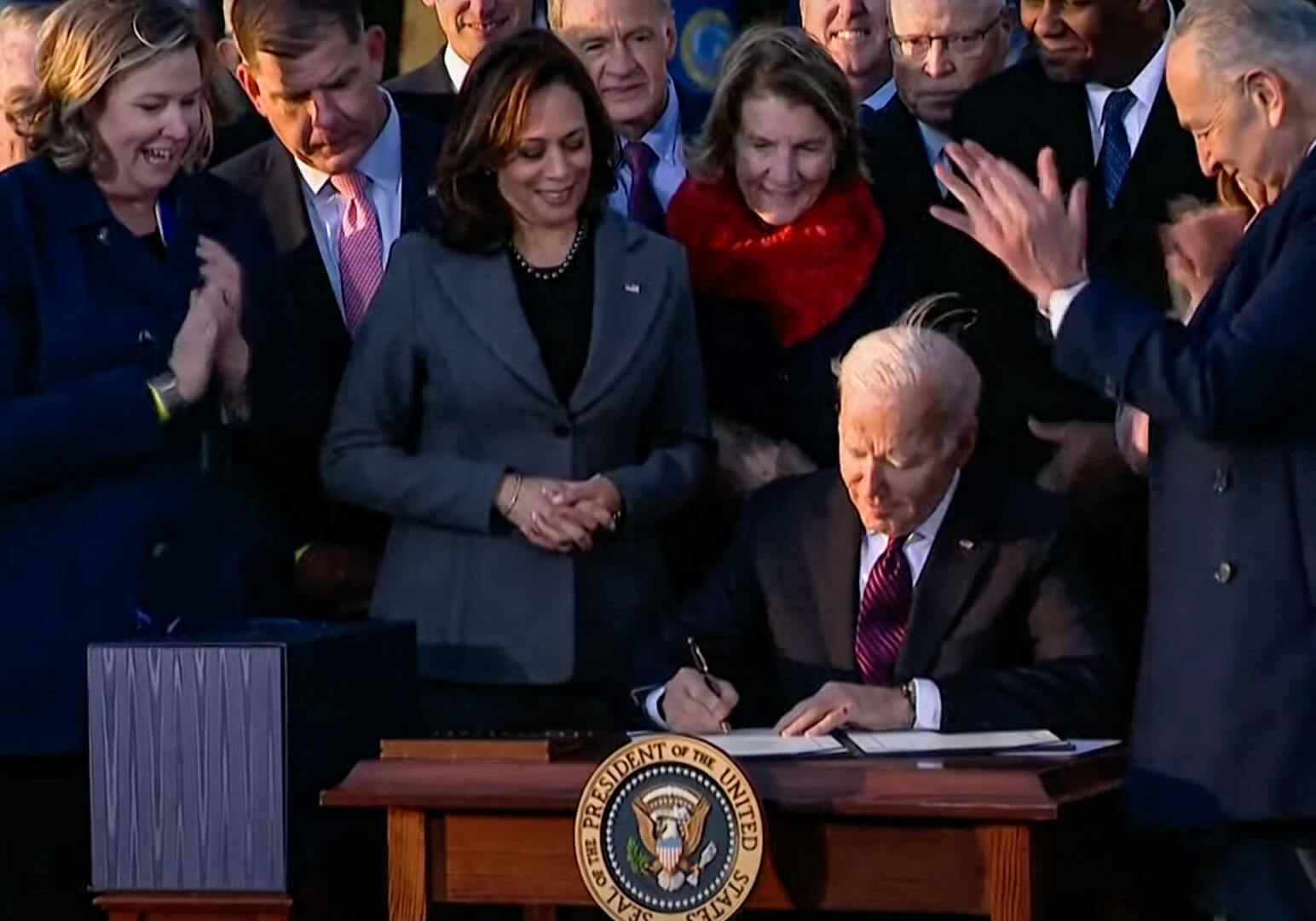 President Biden Signs the Infrastructure Investment and Jobs Act into law.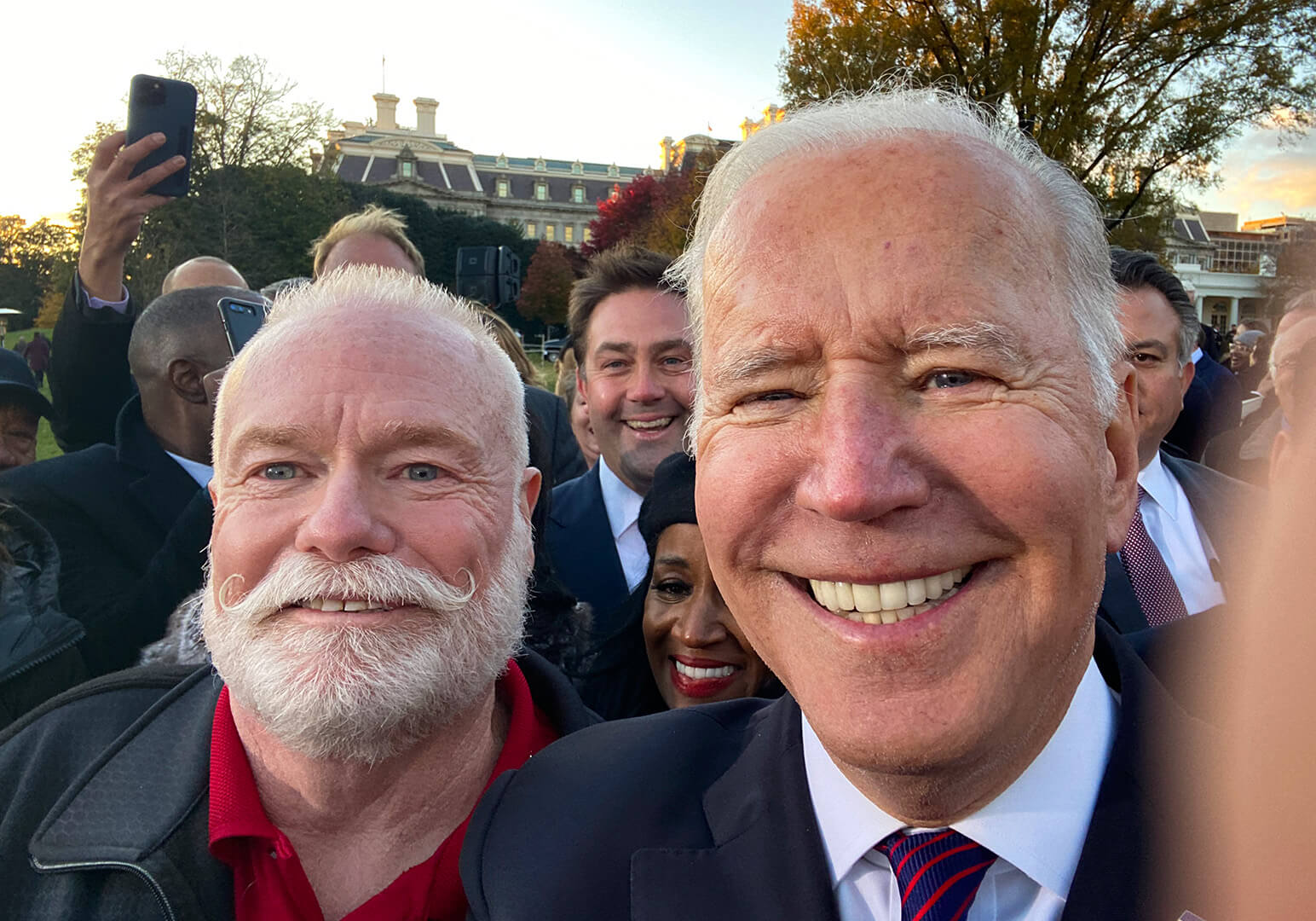 Photo Credit: President Joe Biden.
Shortly after the signing ceremony, President Joe Biden stopped to give a personal thanks to the labor unions who helped get the Infrastructure Bill passed. Here, the President takes the cellphone from IAMAW  Legislative Director David Roderick to snap a selfie.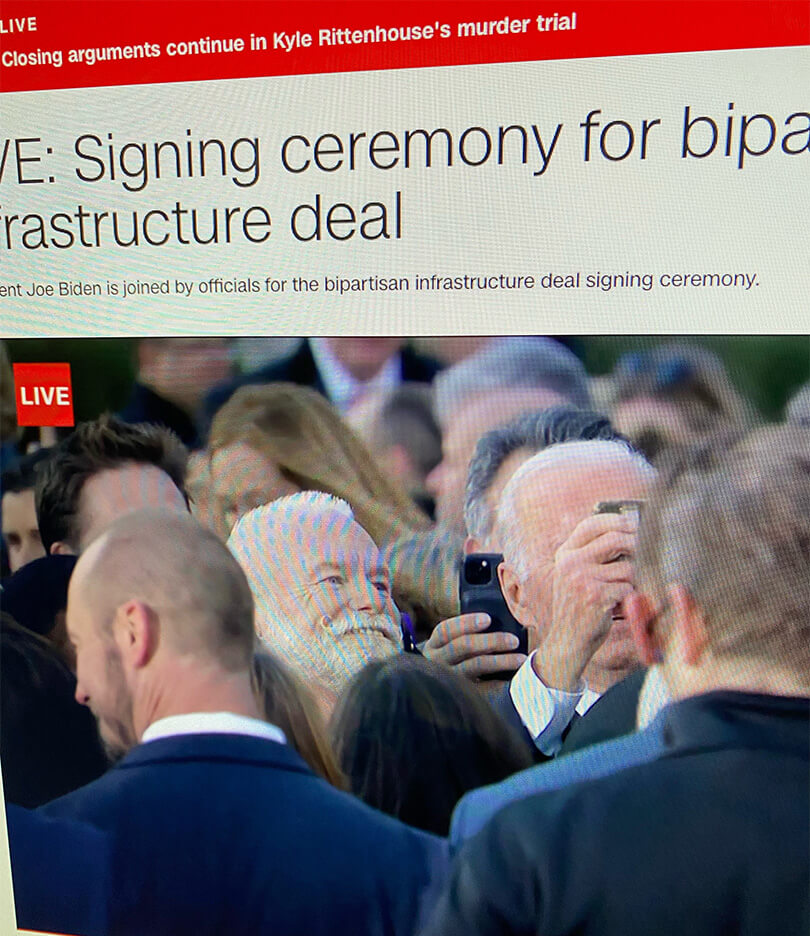 The bill's investment in the nation's rail system is also critical to Machinists Union members, boasting an extensive railroad membership. At $17 billion, it will be the most significant investment since the creation of Amtrak in 1971.  The legislation positions "rail to play a central role in our transportation and economic future," the White House said of the bill.
Economists have argued that supply chain bottlenecks are primarily to blame for the current rise in inflation and consumer prices that have working Americans increasingly worried. According to Roderick, the Infrastructure bill will offer mid and long-term solutions for Americans, who are seeing spikes in the prices of everything from food to utility costs. "This bill targets virtually all of the drivers of inflation," he said. "It will grease the entire supply chain, making it easier and cheaper to transport goods and bring them to market," he said. Essential for the Machinists Union, according to Roderick, was that the bill would be adding tens of thousands of jobs for American workers to fill. "These are going to be union jobs," he said. "With union paychecks."
In addition to improving the American transportation sector, the bill will also benefit airlines in one important but often overlooked way: lowering fuel prices. Fuel costs are a significant burden for airlines, making up around 20% of overall costs. They can also be dangerously unpredictable, leading carriers like United to invest heavily in electric vehicles and updated wing designs. 
The legislation will create the first-ever national network of Electric Vehicle chargers in the United States, built by American workers. The new funding will open up interstate highways to electric vehicles, including fleets of electric trucks and 18-wheelers. "The bill will provide funding for deployment of EV chargers along highway corridors to facilitate long-distance travel and within communities to provide convenient charging where people live, work, and shop," the White House said. "Federal funding will have a particular focus on rural, disadvantaged, and hard-to-reach communities." Additionally, the bill also funds the creation of electric school bus fleets that can replace current gasoline and propane-powered fleets. "Together, these moves will bring a permanent end to high gas prices by collapsing demand," Roderick said.
The legislative win comes after heavy lobbying by unions throughout the pandemic – a massive mobilization that saw $25 billion in emergency aid for airlines to retain their workforces. That assistance was followed up by a second round of payroll support worth another $15 billion. The help allowed passenger air carriers such as United, American, and JetBlue to maintain the "payment of employee wages, salaries, and benefits." 
Machinists Union District President Mike Klemm praised the legislation and the work that the legislative department has accomplished on behalf of airline and transportation workers. "Our union is filled with an incredibly active and engaged membership," he said, adding that Machinists Union members don't listen to excuses well. "Our members kept this bill front and center for lawmakers, and that made a difference. This is evidenced by the fact that our union was invited to the South Lawn signing ceremony today," he said.

In attendance were Machinists Union members David Roderick, (Legislative Director, District 141), Josh Hartford, (General Chairman, IAM Dist. Lodge 19),  Elliot Benton, (TCU Local Chairman, Amtrak), David Arouca (TCU Asst. National Legislative Director). The delegation was led by Hasan Soloman (IAMAW Legislative Director).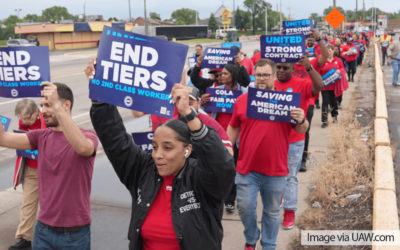 The United Auto Workers are...