Congress demands better accountability from the Treasury Department in the administration of airline relief funds from the $2 Trillion CARES Act. 
On May 1st, federal lawmakers began receiving emails and calls from airline employees following United Airlines' announcement that, despite having received $5 Billion in federal COVID relief aid through the CARES Act, they were involuntarily reducing the scheduled hours of work for over 16,000 airport and call center employees. The response from Congress was swift and bi-partisan. A US Senator and several House representatives sent stern warnings to United's CEO about possible repercussions if the airline moved ahead with plans to cut paychecks after receiving federal funds intended to protect employee payroll.
After District 141 of the Machinists Union filed a lawsuit in federal court, United reversed that decision but went ahead with a plan to involuntarily furlough up to 30% of their workforce in management and administration. The Senate Minority Leader, Charles Schumer (D-NY), highlighted the oversight of CARES funds in a letter on May 7th to Treasury Secretary Steven Mnuchin. Senator Sherrod Brown (D-OH) and Senator Maria Cantwell (D-WA) co-signed the letter urging Secretary Mnuchin to "issue guidance clarifying that unilateral decisions to reduce workers' hours, and as a result their pay or benefits, are prohibited activities under the CARES Act." 
Delta and jetBlue have imposed cuts to the scheduled hours of work of their mostly non-union workforce, which also prompted 13 Senators to send letters to the CEOs of those two carriers. Senator Elizabeth Warren (D-MA) was joined by colleagues writing that "Section 4114 of the CARES Act is intended to protect workers and maintain their pay and benefits." The Senators acknowledged that United has reversed the decision to cut their employees' pay and said: "You should do the same." They are asking jetBlue and Delta executives for an explanation of the process they followed to force the furloughs and to justify their stated position that payroll cuts are in compliance with the law. The Senators are requesting a response from the CEOs by June 3, 2020.
The activism of District 141 members does not only benefit them. "When we advocate for non-union workers at Delta and jetBlue, we raise everyone's voice," said Frank Giannola, District 141 Director of Organizing. He added, "The workers who want a union at jetBlue and Delta need us to speak for them too." Organizers from the IAM are working with activists at jetBlue and Delta and support their rights to organize and form a union.
As they prepare to consider another round of federal aid to address the devastating effects of the coronavirus pandemic, many members of Congress are concerned about the proper administration and oversight of relief funds.
On Tuesday, May 26, Treasury Secretary Steven Mnuchin testified before the Senate's Banking, Housing, and Urban Affairs Committee. His statements got the attention of Rep. Jan Schakowsky (D-IL), who co-wrote a letter to the Secretary with Rep. 'Chuy' Garcia (D-IL) and Rep. Katie Porter (D-CA). In that letter, they ask if the Treasury Department provided any guidance to airlines on the administration of CARES Act funds, and call for more transparency and better oversight for billions of taxpayer dollars. The letter was co-signed by another 71 members of Congress, representing California, Illinois, New Jersey, Massachusetts, New York, Michigan, Ohio, Pennsylvania, Texas, Washington, Florida, Minnesota, Arizona, Maryland, New Hampshire, New Mexico, Rhode Island, Tennessee, Virginia, Wisconsin and the District of Columbia.          
District 141 Legislative Director Dave Roderick lives in Rep. Schackowsky's district in Chicago and was pleased to see how the grassroots work of so many IAM members earned the support of a large and diverse group of lawmakers. "Both Republicans and Democrats know very well how important reliable air transportation and good union jobs are to our nation's economy," he said. "And they also know Machinists Union members vote, so when they hear from us in large numbers, they act."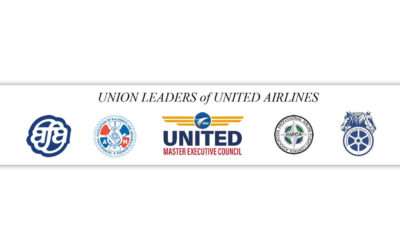 Important Letter from the...