As IAM members continue to bravely confront the coronavirus crisis, IAM International President Robert Martinez Jr., remotely attended IAM District 751's 2020 Membership Conference.
With the theme of "Winning the Vote! Centennial of Women Winning the Right to Vote and the Role of Labor and Race in This Continuing Struggle," the virtual event took place June 13, 2020 with Martinez, IAM Western Territory General Vice President Gary R. Allen, AFL-CIO Secretary-Treasurer Liz Shuler, Washington State Labor Council Secretary-Treasurer April Sims, civil rights activist Bill Fletcher, along with hundreds of attendees participating via live video stream.
The protests, turmoil and calls for justice following the killing of George Floyd gave the conference even more importance and timeliness.
"As we speak right now, I feel a real change coming to our country," said Martinez. "I see people of all races marching, speaking up and speaking out together for a better world, and demanding that justice finally be done. We are here today to turn those calls into action to use our collective voices and our votes to make real, lasting change, just like we have so many times in the history of our union."
"The IAM has always and will forevermore fight for the rights of those who are oppressed. We fight for equal rights for women, minorities, and all people of color," said Western Territory General Vice President Gary R. Allen. "The struggle for justice and equality will always be the labor movements guiding principle.  The victories we pursue and the goals we aspire to achieve regarding equal rights for all can only be attained at the ballot box. Once we elect someone it's only the beginning, as we must hold all politicians accountable."
The conference was hosted by the District 751 Human Rights, Labor History, Women's and Legislative Committees. It celebrated women winning the right to vote and emphasized the continued importance of insuring voting rights.
"We appreciate everyone that participated in our conference. It is always important to share the struggles we have come through in our history in order to identify how far we have come and how far we still have to go," said District 751 President Jon Holden. "Even though much progress has been made for Voting Rights we have much work still ahead of us across the country.
[dsm_text_divider header="Like Us on Facebook!" _builder_version="4.4.3″ header_text_color="#0c71c3″ link_option_url="https://www.facebook.com/IAMAWDistrict141/"][/dsm_text_divider]
"It is hard to believe that nearly 250 years after the birth of our nation, we are still fighting for equality and the right to vote for everyone," said Martinez. "This struggle goes to the very core of our democracy."
Martinez took the opportunity to address District 751 members on the IAM's ongoing efforts in Washington, DC to protect workers as a result of COVID-19.
"We have been relentless in lobbying Congress to provide federal unemployment relief for the millions of our brothers and sisters that are out of work. We have made certain that companies that get relief, give that relief to their workers instead of pocketing it for the CEOs and other executives," said Martinez.
IAM Coronavirus (COVID-19) Resource Center
Machinists Union Joins Call for Police Reform, Racial Justice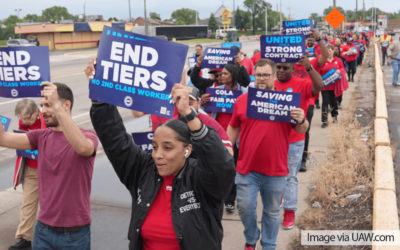 The United Auto Workers are...