The severe downturn in air traffic caused by Covid-19, followed by a slow recovery, will result in a loss of up to 46 million aviation-dependent jobs. The findings come from an industry study by Air Transport Action Group, released this week.
Airlines directly support 11 million jobs, including airline and airport workers, aircraft manufacturers, and aviation-related agencies. Counting those whose jobs are dependent on air travel, such as the tourism and hotel industries, another 87.7 million jobs require a healthy airline industry for their survival.  
Many experts do not expect air travel to return to normal levels until 2024. 
"Our analysis shows that up to 4.8 million jobs in aviation may be lost by the beginning of next year, a 43% reduction from pre-Covid levels," ATAG Executive Director Michael Gill said of the research.
"When you expand those effects across all the jobs aviation would normally support, 46 million jobs are at risk, Gill continued. "These include highly-skilled aviation roles, the wider tourism jobs impacted by the lack of air travel and employment throughout the supply chain in construction, catering supplies, professional services and all the other things required to run a global transport system."
International Association of Machinists & Aerospace Workers District 141 President Mike Klemm underscored many of the study's findings. "The economy needs airlines, just like it needs roads, bridges, and the internet. And, airlines need a well-trained and experienced workforce. The longer Congress refuses to act to protect this workforce, the more permanent the damage to this industry and economy becomes."
The study, titled "Benefits Beyond Borders," can be downloaded HERE>
Key Findings From the Report
In a typical year…
Air transport supports 87.7 million jobs and $3.5 trillion in global economic activity.

Over 11 million people work directly for the industry itself. Aviation jobs are, on average, 4.3 times more productive than other jobs in the economy.

Air travel carries 35% of world trade by value ($6.5 trillion worth in 2019), but less than 1% by volume (61 million tonnes in 2019).

Airfares today are around 90% lower than the same journey would have cost in 1950 – this has enabled access to air travel by greater sections of the population. Scope of the industry: 1,478 airlines flew 33,299 aircraft on 48,000 routes between 3,780 airports in airspace managed by 162 air navigation service providers.

58% of world tourists travel to their destinations by air.
The Impact of Covid-19 on Aviation:
Aviation-supported jobs potentially fall by 46 million to 41.7 million (-52.5%)

Direct aviation jobs (at airlines, airports, manufacturers, and air traffic management) fall by 4.8 million (a 43% reduction compared with the pre-Covid situation)

Nearly 39,200 special repatriation flights took almost 5.4 million citizens home after borders closed in March 2020.

Nearly 46,400 special cargo flights transported 1.5 million tonnes of cargo, mostly medical equipment, to areas in need during the height of the pandemic response.
///  Contact Your Senator and Ask Them to Extend the Payroll Support Program
/// The report can be downloaded at www.aviationbenefits.org. It was prepared by ATAG with other global aviation industry associations and research by Oxford Economics.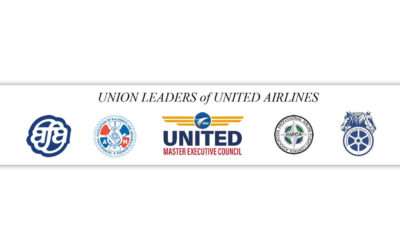 Important Letter from the...