Three months ago
I wrote to the membership
stating we were about to face a situation unparalleled in our lifetime due to the COVID-19 pandemic, and that nobody could accurately predict what would come next. The picture is now starting to get clearer, and it is not pretty. 
In response to societal restrictions and the unprecedented global economic collapse, commercial air service has been cut dramatically. Only through an intense lobbying effort led by the Machinists Union, our membership and our Legislative Department did transportation unions secure early in the crisis pay and job protection for most airline employees through the CARES Act.
When the CARES Act job and pay protection we secured expires on October 1, the number of IAM members furloughed could easily rise into the tens of thousands, literally overnight. Although passengers are slowly returning to the sky, the industry's downturn will last far beyond CARES Act protections.
Today, the Machinists Union and other airline unions sent a
letter
 to the House and Senate leadership to pass a clean extension of the airline Payroll Support Program (PSP) contained in the CARES Act until March 31, 2021. I ask each IAM member to follow up and engage your representatives in Washington. You can contact your representatives to explain the importance of saving our workforce by clicking
here.
Specifically, we are asking for:
Increase PSP funding levels by an additional $32 billion (covering six months)
Extend requirements relating to involuntary furloughs, share repurchases, dividend payments, and collective bargaining agreements to March 31, 2021
Require Treasury to immediately disburse funds to every air carrier and contractor that executed a Payroll Support Program Agreement, an amount equal to their current payroll support.
Nobody likes to ask the government for assistance, but without additional intervention, I fear a repeat of the multiple airline bankruptcies that marked the opening of this century. Tens of thousands of IAM families, hundreds of thousands of airline families from outside our union, will soon be faced with devastating job loss unless action is taken.
General Vice President IAM Transportation Department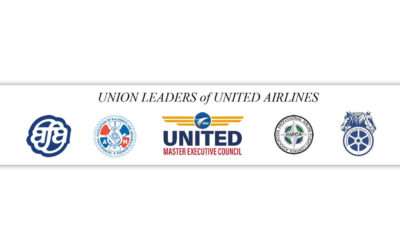 Important Letter from the...