IAMAW Transportation Territory ///
The IAM is urging an immediate, standalone extension of expired airline worker relief, known as the Payroll Support Program (PSP). Tens of thousands of airline workers were furloughed at midnight on Thursday, October 1 after Congress could not come to terms before aid from the CARES Act ran out.
Reports on Thursday indicated that negotiations for an overall relief package remained far apart. Without consensus to help all Americans, the IAM is urging immediate passage of stand-alone legislation to extend the airline PSP.
The IAM supports standalone PSP extension bills and urges House and Senate leadership to immediately pass the bipartisan Air Carrier Worker Support Extension Act, led by U.S. Sen. Roger Wicker (R-MS) and Congresswoman Stacey Plaskett (D-VI).
"As negotiations continue today on a relief package, our members are now facing the grim reality of trying to survive during the global pandemic without a paycheck and health care benefits," said IAM International President Robert Martinez Jr. "We have long supported the bipartisan negotiations to pass a comprehensive relief package to help all American workers and affected industries through the economic distress of this global pandemic, but time has run out for airline workers that we proudly represent. It is past time for Congress to act. We must act now."
Both American Airlines and United Airlines proceeded with more than 32,000 furloughs beginning Thursday. Both airlines have agreed to rescind furloughs if federal aid is approved in the next few days.
"How much more nonsense and political posturing must the working people of our country have to endure?" said IAM Transportation General Vice President Sito Pantoja. "Our members risk their health every day to move people and goods across this country. I encourage every Machinist to loudly let Congress know how you feel."
Here's how you can still help save thousands of airline jobs:
Call your Senators and Representative at 866-829-3298

 and urge them to pass an extension of the airline Payroll Support Program through March 31, 2021, and to save hundreds of thousands of frontline airline workers' jobs.
"We just need to make sure that people understand that we're people," IAM member Andrea' Myers, a United Airlines Reservations Agent in Detroit, 
told the Washington Post
. "We're not just a number at United Airlines. We have families. We have things we have to get done."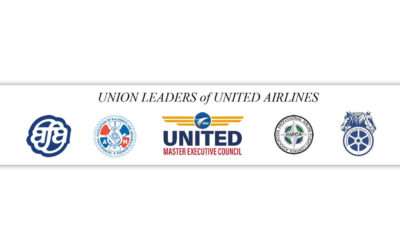 Important Letter from the...