It's all-hands-on-deck for IAM Local 754 members of the Long Island Railroad.
The COVID-19 crisis alters things for hundreds of members who usually work in the spring, tasked with overhauling engines and other maintenance, and readying the regional railroad's fleet of diesel locomotives to roll for the busy summer transit schedule.
"We're all working together with everyone to get things done," said Local 754 President Dave Negus. "If someone comes into an issue with worker shortages, we are lending a hand to get the work done."
Those, such as United Airlines' longtime customer service representative Alice Martins, has spent much of her spring working on ways to help her colleagues weather the pandemic.
"I am amazingly grateful I have this to do," said Martins, a member of Local 914 in Newark, NJ, who produced a video showing her colleagues how to make a face mask from household items. "It's solidarity. We are all a very close-knit family. Helping others has been a great way to keep my mind focused on something else" other than on what's happening with the coronavirus.
The actions of members at Locals 914 and 754 are merely a snapshot of how many IAM members in the Transportation Territory are taking on new roles in recent months. The IAM territory, known for keeping many of the nation's transportation hubs moving, has stepped up to respond to the disruptions caused by COVID-19, a pandemic that has taken the lives of tens of thousands and upended economies around the globe.
The IAM's response also includes lobbying for more protective gear in the workplace, legislation to help thwart potential airline layoffs, and consolidated work schedules while assuring workers retain the equivalent of full-time pay.
The IAM also filed a federal lawsuit against United Airlines, forcing the carrier to reverse intentions to reduce 15,000 employees' hours to part-time. The announced reduction in work hours violated IAM collective bargaining agreements and provisions in federal funds given to airlines amid impacts of the COVID-19 crisis.
Many IAM members, like those at the LIRR and other transportation systems, are labeled essential during the pandemic, which keeps them on the job. Their work helps ensure healthcare workers and others on the front lines are able to get to work.
"Our members undoubtedly provide a service that is essential to our nation's and the world's economy," said Transportation General Vice President Sito Pantoja. "The IAM is taking every possible step to ensure our members can perform their jobs safely and return home to their families."
The spring also included a bright spot, when in late March more than 30,000 TWU-IAM Association-represented American Airlines mechanics, fleet service workers and other ground operations employees overwhelmingly ratified a series of labor contracts with the carrier.
Ratification of the collective bargaining agreements, valued at $4.2 billion, capped what had been a hard-fought battle for IAM's members to receive a strong labor contract.
FIGHTING FOR WORKERS RIGHTS
The territory's history of strong negotiations has also played out with heightened worker safety amid the coronavirus crisis.
The Transportation territory has been busily working to assure its more than 100,000 members are protected during the COVID-19 crisis. That includes lobbying for the successful passage of the Coronavirus Aid, Relief, and Economic Security Act, or CARES ACT.
The massive relief bill includes provisions like $114 billion specifically for the transportation industry. For the airlines, the law mandates that grant funds be used exclusively for the continuation of payment of wages, salaries and benefits for workers.
The IAM encouraged the Centers for Disease Control (CDC) to increase access to COVID-19 testing for air, rail and transit workers. The Transportation Territory also purchased tens of thousands of washable, reusable face masks for its members to help stop the spread of the virus in the workplace and when out in public.
"While transportation workers have answered the call in the most patriotic and caring ways possible, they are also contracting the novel coronavirus at alarming rates. Sadly, some of these brave workers have died, and others are currently fighting for their lives," wrote Pantoja, IAM District 19 President Mike Perry, IAM District 141 President Mike Klemm and IAM District 142 President Dave Supplee in a letter to the Director of the CDC.
Such protections would come in handy to return business to once-buzzing airports that have come to a screeching halt amid the pandemic.
The dwindled airline carriers' business is obvious. The U.S. Transportation Security Administration recorded 99,344 passengers through its checkpoints on April 20, down 97 percent for the same day in 2019.
SCHEDULING FOR WORKER SAFETY
Low demand has aided IAM officials in their negotiations with companies to alter work schedules to heighten employee safety.
For example, the Territory's airline districts have been working with carriers such as American Airlines, United Airlines and Hawaiian Airlines to elevate worker safety.
Union officials were able to work with management to reduce workdays but retain usual full-time pay at locations such as Newark Liberty International Airport, Chicago O'Hare International Airport, George Bush Intercontinental Airport and LaGuardia Airport.
The concept, started at airports in the New York region, included ideas like IAM-represented employees working four-day instead of five-day workweeks. The agreement later added concepts like keeping half the workforce home with full pay for one work week, while the other half works.
The concept was intended to lessen worker exposure and maintain social distancing as "break rooms" or spaces used by workers awaiting the next flight needing service, were filling up due to fewer airport flights due to the coronavirus crisis.
SHIFTING GEARS, ELEVATING TEAMWORK
Many IAM members are facing new challenges as they adapt to unprecedented times and tasks they're called on to perform.
"That hasn't stopped IAM members working for the LIRR. The members have battled a steady stream of hardships as the coronavirus has hit the New York City region hard, killing thousands and forcing scores to quarantine," Negus said.
Unfortunately, tradesmen working the LIRR have not been immune from such hardships.
Some LIRR workers have died as a result of COVID-19 and many have been asked to quarantine due to potential exposure to colleagues who tested positive for the coronavirus.
Still, Negus touts the workforce as resilient and dedicated with a common goal: keeping transit moving.
"I think our guys have done their part to keep distance and try to complete the work with each other and with the help of others involved," Negus said. "There have been some instances where we have had to do other crafts, but we are working together to keep this running."
Their tireless efforts have not gone unnoticed. That includes the Metropolitan Transportation Authority (MTA), which controls the LIRR, dubbing the transit workforce as "heroes moving heroes."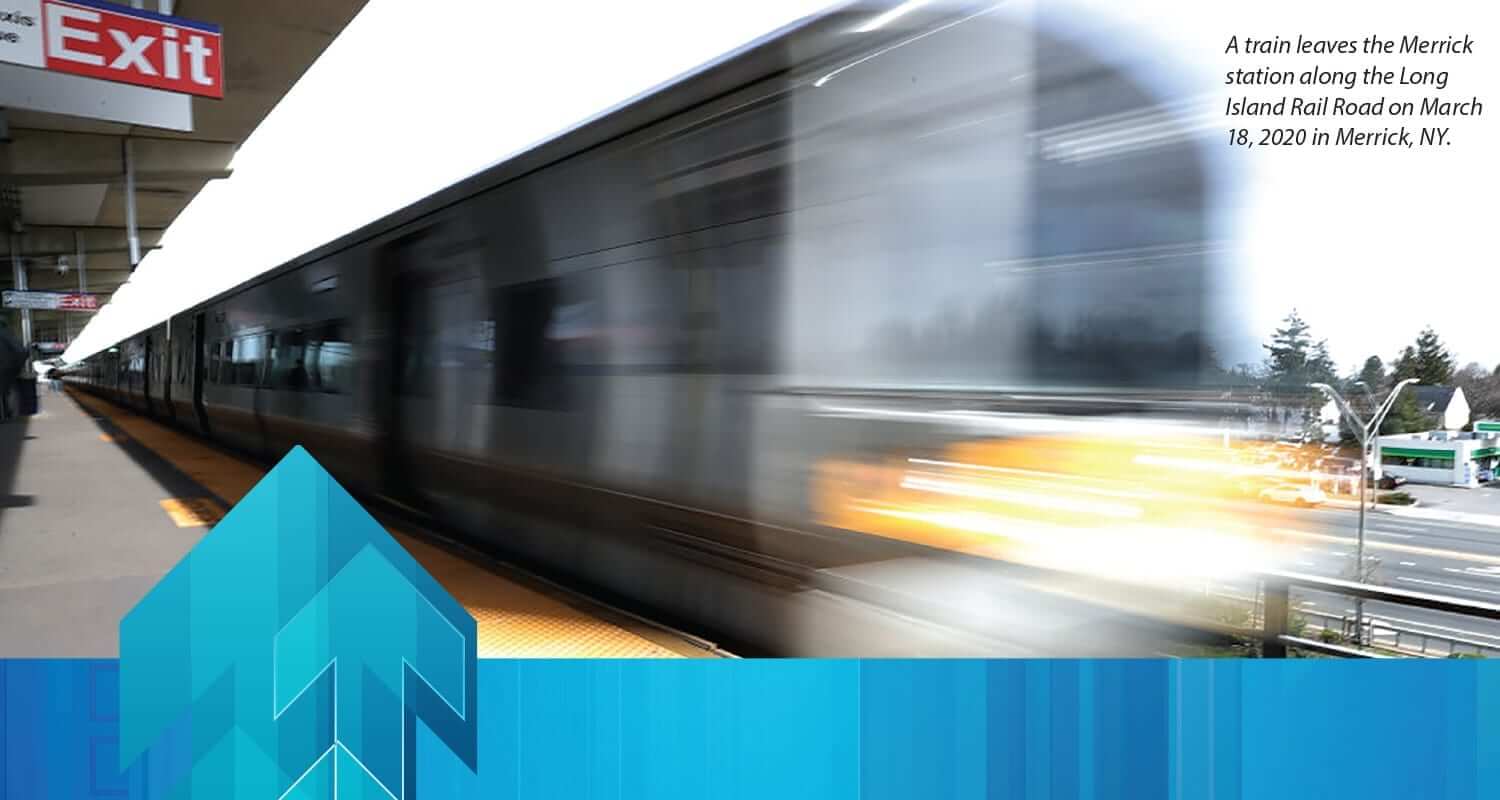 [dsm_text_divider _builder_version="4.4.3″ header="What's Happening in Our Union?" header_font="Open Sans Condensed|700|||||||" header_text_color="#0c71c3″ hover_enabled="0″][/dsm_text_divider]
Is your Local Lodge saving the world right now? We want to know about it!