Otro legislador a expresado su apoyo a los grupos de servicio al cliente y servicios de rampa, representados por la IAM en la aerolínea United. Mientras estos empleados pelean una propuesta de despidos en la aerolínea. Esta semana, el Congresista Dan Crenshaw (R-TX), emitió un comunicado llamando a United a "cumplir con sus obligaciones " y acatar las reglas del CARES Act. 
El Congresista Dan Crenshaw, quien sirve a las personas del segundo distrito de Texas en la Casa de Representantes, respondió a un constituyente que lo contactó a el después que la aerolínea United anunciará una reducción de horas que afectaría a más de 16,000 trabajadores de aeropuertos y de centros de llamada de servicio al cliente. En una carta, el Representante Crenshaw escribió: "Yo vote en favor de el CARES Act porque yo entendí la importancia de sostener nuestra fuerza laboral Aeronáutica durante este difícil periodo de tiempo."
Como miembro del comité de presupuesto de la Cámara de Representantes, el Representante Crenshaw ayuda en la confección de la resolución de presupuesto nacional anual. El cual determina las políticas de fondos para el gobierno federal. Siendo el un ex Navy Seal de los Estados Unidos de America y un miembro del partido Republicano. El fue elegido al la Cámara de Representantes en el 2018 basado en una plataforma que pedía guiar al país en un camino de "gastos responsables." En su carta, el Representante enfatizó los seguros que el Congreso puso en el CARES Act para que los fondos sean utilizados debidamente y dijo, " Este proyecto de ley Incluye medidas de responsabilidad y es importante que cualquier entidad que reciba fondos públicos deba cumplir estas obligaciones."
Siendo la propuesta mas grande de ley del Congreso para combatir el impacto económico causado por la pandemia del coronavirus, el CARES Act predispuso $25 billones de fondos de alivio para que las aerolíneas mantuvieran sus empleados en nóminas de sueldo. 
Miembros del Congreso como Crenshaw interactúan con empleados de aerolíneas durante sus frecuentes viajes entre sus distritos y Washington, DC. El agradeció a los empleados de United en una carta en la que escribió, "Ustedes son los que mantienen corriendo a nuestra nación y es emocionante ver la dedicación de los empleados en los aeropuertos." El Congresista prometió "continuar seguir enfocado en asegurar que los fondos sean utilizado para los que fueron destinados, mientras la industria aeronáutica se recupera y que apliquen medidas de seguridad que sean implantadas para proteger a ambos empleados y pasajeros."
Do you live in the Houston area?
Lawmakers need to know that we appreciate their help. If you are a constituent of Congressman Dan Crenshaw, please take a second to let him know that our union values his assist.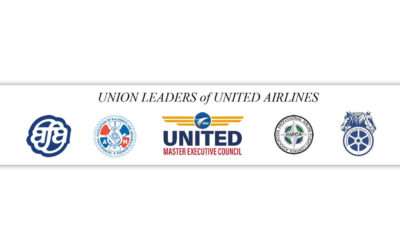 Important Letter from the...
Lawmakers are calling on airlines to fulfill the obligations they made to taxpayers and employees like us. How would you rate the job your airline has done so far?