Election officials around the country are dealing with the challenges of running an election unlike any they've run before. What was considered a healthy turnout of voters in a regular year could become a COVID superspreader event in 2020.
One of the biggest problems they are facing is a lack of workers. COVID-19 is particularly dangerous if contracted by people over 65 years of age, who are the majority of the people who work at the polls on Election Day. Many states are expanding their vote by mail and early voting programs to avoid long lines and overcrowding at the polls on Election Day, but election officials in many areas desperately need workers to also help conduct those programs.
This is where we can help. District 141 of the IAMAW is a partner with Power The Polls, a first-of-its-kind initiative to recruit poll workers to ensure a safe and fair election for all voters.
Dave Roderick, District 141 Legislative and MNPL Director, and Cristina Odoardi, Community Services Director, are excited about taking part in a project where civics and community service intersect. "This is an excellent opportunity for our members to play an important role in one of the most consequential elections in US history," said Roderick. "We all have an interest in making sure it runs smoothly," he said.
Odoardi sees the poll worker recruitment effort as a way to reinforce our union's role in our communities as a force for positive change. "Helping people help themselves is at the heart of our mission to serve the community. We must do everything we can to protect our country's core values of free speech and democracy. Becoming a poll worker to help people cast their vote is a great example of what serving the community is all about."
Poll workers are hired by election officials to help administer the election. They do things like check-in voters, fix voting machines, and troubleshoot any other issues at the polling places. They operate in an official, non-partisan capacity, and are trained and paid for their work by the local jurisdiction, which also provides PPE. Their function is different from that of poll watchers or poll monitors, which are volunteers or staff from a political party or campaign that are certified to observe and monitor election administration. Answers to frequently asked questions about the role of poll workers can be found here.
Courtney Cardin, Director of Non-Profit Partnerships for Power the Polls recently sent District 141 a list of the cities and counties most in need of poll workers. The areas at the top of the list are Polk County, FL, Gwinnett County, GA, Flint, MI, Allentown/Lehigh Valley, PA, Pittsburgh, PA, San Antonio, TX, Green Bay, WI, and Racine, WI. The following areas are also recruiting workers and could use more help: Chicago, IL, Detroit, MI, Charlotte, NC, Cleveland, OH, Philadelphia, PA, and Houston, TX. Cardin stressed that bilingual people are particularly needed in Florida, Michigan, and Pennsylvania.
"Machinists Union members always vote in great numbers, and we understand the value of essential work. Democracy is not a spectator sport, and we are proud to join volunteers from labor and non-profit organizations in this great effort to power the polls and our voices," said Mike Klemm, District 141 President and Directing General Chair.
To sign up to Power The Polls, please use the District 141 link: https://www.powerthepolls.org/?source=iam141
Once you've signed up, depending on your jurisdiction, you will either be contacted by Power the Polls, a partner organization, or your local election administrators regarding your application.
Election Day is less than two weeks away, so please sign up today! 
Defending Democracy Takes Work.
Volunteer to serve your country as a poll worker today.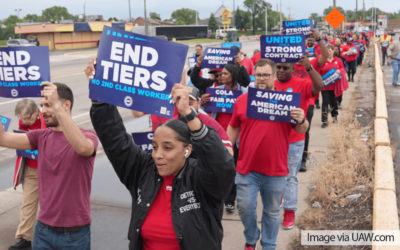 The United Auto Workers are...