Pennsylvania Representative Conor Lamb Supports Extension of PSP: "Air Travel is Going to Come Back"
Members of District 141 took part in a Zoom call with Representative Conor Lamb (D-PA) this week, where he shared his views about the possibility of an extension of the Payroll Support Program (PSP) to save airline jobs. He presented a grim view of current negotiations.
"I hope that I'm wrong, but I'm very pessimistic at the moment based on what I'm hearing within our caucus about negotiations," he said, responding to a question from District 141 Legislative Director Dave Roderick. The negotiations led by House Speaker Nancy Pelosi (D-CA) are deadlocked, and Rep. Lamb explained that despite offers to modify parts of the HEROES Act which the House passed in May, "there's a group of Republican Senators, somewhere around 20 or so, who won't go for a single thing. They don't even have terms, they don't have suggestions or areas for compromise," he added.
Rep. Lamb expressed confidence, however, in the House of Representatives voting to "give a lifeline" to airline workers, but did not see "glimmers of hope" in the Senate. He said he hoped that as the end of the current PSP approaches, the "pain becomes a little bit more clear to some of these senators who maybe are spending too much time in DC and not realizing it."
Answering a question from Rich Howell, Vice President of the Pennsylvania State Council of Machinists and a member of Local 1776 in Philadelphia, Rep. Lamb said that six months into the pandemic, there are lessons learned about how different businesses will survive and the importance of sustaining "assets" such as airports. "Air travel is going to come back. We are in a global and interconnected world, people are going to want to get on airplanes again, and that will happen when they believe it is safe."
He stressed that before large segments of the public return to the skies, it is important to "suppress and ultimately defeat this virus." In the meantime, the congressman supports new federal financial help for airlines with restrictions identical to those of the PSP, ensuring that public money goes directly into the pockets of workers and it is not a "blank check."
A former Marine, Representative Conor Lamb was elected in 2018 to represent the 17th Congressional District of Pennsylvania with broad support from labor unions. At the end of the call, the congressman praised the work of Obie O'Brien, President of the Pennsylvania State Council of Machinists, and his commitment to working families, calling him "the soul of what we're trying to do here."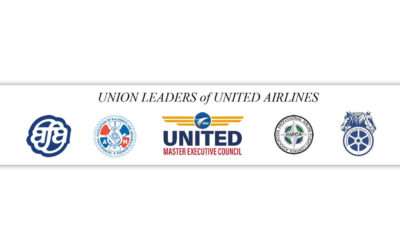 Important Letter from the...