Dear Sisters and Brothers,
Over the last four months, we have experienced the devastating effects of COVID-19. Many of us have lost family and friends, and just about all of us know someone whose life was cut short due to this vicious virus. In addition to the human suffering we have witnessed, we have also experienced the worst economic downturn since the Great Depression, which has disproportionately impacted the global airline industry with record low air travel demand.
Although passenger counts have increased since the lows in April, the industry as a whole is only moving approximately 25 percent of the amount of passengers who were flying one year ago. And while there was some optimism in June that increased bookings would continue to rise, that does not appear to be the case due to some states issuing quarantine orders and halting re-opening plans as a result of increased rates of COVID-19 infections, hospitalizations, and deaths. Sisters and brothers, we are facing unprecedented layoffs in October, which could put hundreds of thousands of airline workers on the unemployment line literally overnight.
On October 1, 2020, the Payroll Support Program (PSP) component of the CARES Act expires and airlines that participated in the PSP will be permitted to furlough workers. Led by the IAM, along with our sister airline unions, we have proposed a "clean extension" of the PSP, which would provide additional funding to airlines to keep workers employed through March 31, 2021.
In late June, airline labor sent a letter to congressional leaders to request that Congress pass the PSP extension. I cannot emphasize enough how important it is for every single IAM member to contact their elected officials and demand that the PSP be extended through March, 31, 2021. Please ask your family members to have their voices heard, as well.
CLICK HERE TO SEND A MESSAGE TO YOUR ELECTED FEDERAL OFFICIALS.
The airline industry was set for a record year of air travel in 2020. The industry produces about $1.7 trillion in economic activity and drives approximately 10 million jobs. We cannot cut the cord on this most critical industry and allow it to implode. We must act to save our jobs and to ensure that when air travel rebounds, and it will, that we are there to facilitate a seamless transition, which will be beneficial for our industry and the economy as a whole.
Over the last four months I have never been so proud of being a representative of the Machinists Union. Under unbelievably difficult circumstances, you have courageously answered the bell and facilitated the transportation of essential goods and services to a nation in need, and you continue to do so day in and day out. You exemplify the best of our nation and you are truly the backbone of this country.
We will only be successful if ALL of our voices are heard. Our representatives need to hear from us and they need to listen to us. While we are certainly going to have to navigate some turbulent times in the near term, we WILL get through this crisis as we have others. That's exactly what the Fighting Machinists do.
Sincerely and fraternally,
Sito Pantoja
General Vice President IAM Transportation Department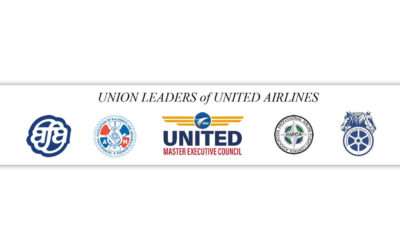 Important Letter from the...