John Staton, Jr. was appointed to the position of District 141 Vice President At-Large, effective immediately.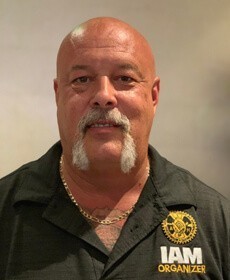 District 141 President and Directing General Chair Mike Klemm announced the decision at the annual IAM141 Committee Conference.
Staton joined the Machinists Union as a United Airlines Ramp Agent in 1989. A veteran of the US Marine Corps and Army National Guard, he entered the commercial aviation industry with a strong commitment to service. This commitment drove him to become a Shop Steward while he was still a probationary employee.
"I got active in this union because I've worked hard my whole life. I've seen that working hard by itself isn't going to get it done. We're going to need to work hard, and work smart," said Staton.
Staton got married while still in the Marine Corps, and moved to Alabama where he worked at a series of blue-collar, non-union factory jobs before entering the aviation industry.  "I worked hard every day. I saw how they did people. And, I said, 'I'm done.'"
Since then, Staton has never stopped fighting for his union sisters and brothers in his three decades of service with the IAM. In 2016 he became a District 141 Trustee, responsible for safeguarding assets and enforcing high standards to ensure the financial health of the Machinists Union.
"John is deeply motivated by a lifelong call to service and a commitment to integrity," said District 141 President Mike Klemm. "He is unquestionably tough; John has never ducked a fight in his life. But, he is also fair and thoughtful. John Staton embodies the finest qualities of our great Machinists Union."