The IAM is among several labor unions urging Congress to extend a provision of the CARES Act coronavirus relief law as an effort to thwart airline executives threatening to lay-off several workers in the fall.
The IAM signed a letter asking the federal lawmakers to extend the Payroll Support Program (PSP) contained in the CARES Act until March 31, 2021. The current provision expires Oct. 1, 2020.
TAKE ACTION: Tell Congress to extend the airline Payroll Support Program (PSP)
"When the CARES Act job and pay protection we secured expires on October 1, the number of IAM members furloughed could easily rise into the tens of thousands, literally overnight," IAM General Vice President Sito Pantoja wrote in a letter to members. "Although passengers are slowly returning to the sky, the industry's downturn will last far beyond CARES Act protections."
Extension of the provision would provide $31 billion in increased funding over six months, in addition to extending requirements for involuntary furloughs. The CARES Act, signed into law in March, has included provisions like $114 billion for the transportation industry. That has mandated that the funds be exclusively used for continuation of wages and benefits for workers.
"Nobody likes to ask the government for assistance, but without additional intervention I fear a repeat of the multiple airline bankruptcies that marked the opening of this century," Pantoja wrote in the letter to members. "Tens of thousands of IAM families, hundreds of thousands of airline families from outside our union, will soon be faced with devastating job loss unless action is taken."
"The airlines do not expect to see any substantial increases in passenger travel in the near future," said IAMAW District 141 Legislative Director David Roderick. "This will, without a doubt, result in the airline industry having no choice but to cut our livelihoods in order to protect their bottom lines."
"The impact of these cuts will be devastating to most of us.  We depend on our full pay and full working hours to sustain our quality of life and to support our families," he continued.
Director Roderick went on to underscore the importance of regular, recurring automatic MNPL donations, calling them the "lifeblood" of union political activism, and a major reason why airline workers have not already been laid off in huge numbers.
"We are currently on another campaign to tell Congress that they MUST support an extension of the "Airline Payroll Funding Program," Roderick said of the MNPL program.
"We have a clear call to action for those of us that are willing to participate in legislative action," Roderick said. "We are asking union members once again to contact their Congressional leaders in helping their constituents to quickly move forward with this extension."
Members can sign up for recurring MNPL donations of any amount by visiting the MNPL Legislative Department at IAM141.org. 
Fall is Coming...
Every major airline has announced mass furloughs and layoffs starting October 1. However, if Congress extends the Payroll Support Program, air carriers will be forbidden from furloughing us for another 6 months. This could buy us enough time to stop the pandemic and bring Americans back to the skies once more. Contact your member of Congress right now. Tell them to renew the Payroll Support Program ASAP.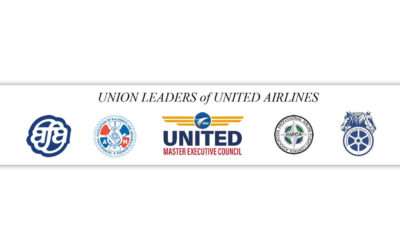 Important Letter from the...