Union members want good contracts and good service for those contracts, in order to improve quality of life, through higher wages, better benefits, and safe working conditions. The IAM's Southern Territory has changed its culture by reorganizing districts so members receive the service they expect, while making organizing a top priority.
"We started looking at districts that only had one representative and how we could support them better, give them more resources to help with their servicing needs, and to help with organizing," said IAM Southern Territory General Vice President Rickey Wallace.
District 74 in Virginia, District 110 in North Carolina, and unaffiliated Local 10 in Richmond, VA were consolidated into the new District 2020 in February. Newly-chartered District 1888 was formed when Districts 27 in Louisville, KY, 154 in Calvert City, KY, and District 711 in Murfreesboro, TN were consolidated into District Lodge 1888 in September.
"We chose that number for a reason," said District 1888 President and Directing Business Representative Jerry Benson. "That's the year the union started and we're looking at this district as a rebirth in this area of our union. This union started in the South and we're going to grow it in the South."
Russell Wade, President and Directing Business Representative of District 2020, says the reorganization will help in a number of ways.
"It gives us a chance to collaborate between local business representatives much more easily because we talk to each other regularly since we did this combination, so to me, it's like the sum of the parts makes a greater whole than the parts individually," said Wade.
Servicing Members
The Machinists Union provides workers with a collective voice to communicate with company managers. Whether it's a shop steward or a business representative, the union helps to resolve problems that may arise.
"Some of our representatives were servicing up to 45 collective bargaining agreements, which is a huge workload on somebody," said Wallace. "It's a juggling act for a representative, constantly with balls in the air all the time, trying to negotiate these contracts. Multiple contracts coming up at the same time. What we had done in the past is our Grand Lodge staff would go in and support these districts and helped them out when they needed it."
Although Grand Lodge Representatives are good at multitasking, Wallace saw a need and an opportunity to get members better services, by having the Grand Lodge Representatives focus on organizing, while business representatives at the district level could concentrate on servicing.
Joe Greaser has been a Grand Lodge Representative since 2007.
"To the general member, seeing their business agent more often, they kind of have the tendency to think the union cares more about them," said Greaser, adding that the "whole aspect of servicing should improve" under this new system and representatives can get out onto the shop floors to get to know members better.
Members often contact their shop stewards in-person and their business representatives through email, text and phone calls.
"I think they'll see a better response from business agents, due to the realignment the Southern Territory did with the Grand Lodge Representatives," said Wade. "It frees the business representatives up to better serve the members and be much more responsive to the members."
The goal is to make sure members hear back from their representatives as quickly as possible.
"We believe in servicing our membership. That's one thing I think the Machinists Union does better than any other union out there," said Benson. "By having the reps located in different areas, different regions of the district, they'll be able to visit their shops and visit their members. So, hopefully, the ones that are out of the [formerly] one-rep district maybe they will see their rep more often than what they were used to. Hopefully, they'll see that their rep has more resources to use for them when having an issue."
Organizing
President Robert Martinez Jr. made it his top priority when he took office in 2016 and has taken steps to boost it since then.
"We weren't using our Grand Lodge staff really to organize at all. If we got a lead, they would pick it up and run with it," said Wallace.
But the added responsibility of organizing on top of servicing was burdensome. The reorganization of the districts in the territory will facilitate the organizing goal and streamline the process. Wallace said the territory is always working on strategic targets.
"Organizing is important to keep the balance of the union and keep the strength of the union," said Greaser. "The biggest impediment when you're organizing is not being able to dedicate the time necessary to have a successful campaign. As a pure organizer, when you don't have those impediments of having to be at meetings, having to be at negotiations, having to deal with internal disputes, you can set your game plan for your organizing effort a lot more efficiently."
A winning game plan involves a tireless fight to organize workers who need help improving working conditions. The union's job is to show them how organizing is power.
"Working people need our help more than ever," said Benson. "We're in an environment now that is not worker-friendly. This new district will have Memphis, Nashville, Louisville, Lexington, Chattanooga, Knoxville, a lot of cities spread out across this new district where there are organizing opportunities. Hopefully, this district grows and with it, this union grows."
Culture Change
Change can be a difficult, yet necessary transition in any industry. "It's a change for us in culture," said Greaser, "but at the end of the day we'll do it in fine Machinists fashion."
Greaser's life as a Grand Lodge Representative has involved a lot of travel. He spends a lot of time in his car, traveling from city to city throughout the territory. Business representatives are also busy, making shop visits, and putting out fires.
"No one likes change, including me," said Wade. "But if you don't change, you go the way of the dinosaur. You've got to adapt and change with the times and I think these changes were in the best interest of the membership, otherwise, I would have put up a fight, so I think it's a change in the right direction."
The Machinists Union wants to keep moving forward together on the local, district, and territory levels, with each entity supporting the other for the greater good.
The district reorganization will take time, according to Wallace. He says it won't happen overnight, "but we think we have a structure in place now that will better serve our members and focus on organizing at the same time. This is a change for us. And change comes difficult sometimes, but we think this is needed in the territory. The whole purpose is to grow these districts, expand our footprint, increase our union density in these districts, so we can negotiate better contracts for our members."
District numbers may change, but the people behind the districts, who represent the union members in them, remain the same, as well as the fighting effort that makes us the "Fighting Machinists."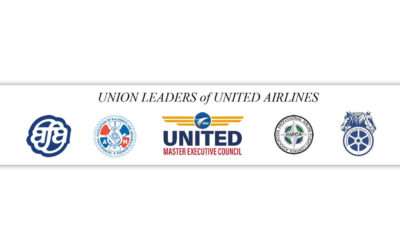 Important Letter from the...