The COVID-19 pandemic has affected the livelihoods and safety of all Americans, especially those working on the frontlines.
Transportation air and rail members, whose jobs are essential to moving travelers and goods across our country, have not only battled through the devastating effects of the virus, but had to do so without a coordinated, national plan from the federal government. The government's failure has jeopardized the safety and livelihoods of tens of thousands of Machinists.
Federally-mandated policies and safeguards would protect our members and the traveling public.
In the absence of federal leadership, the groups who interact most with travelers, flight attendants and customer service agents, have had to adapt on the fly to changes to the passenger traveling experience.
"The new normal for airline travel has changed so much for both travelers and crew members," said Commutair Flight Attendant and District 142 Employee Assistance Program (EAP) Representative Lisa Ferm. "The easiest way to describe it would be to say a paranoia has set in, and it is going to stay awhile."
Flight attendants and customer service agents are put into the unenviable position of dealing with passengers who aren't required by federal mandate to wear a mask. These brave groups are who the flying public remembers most. Whether the passenger has a good experience or a bad one, they associate it, justly or not, to the faces they see as they check-in, onboard and deplane.
Although airlines have instituted a mandatory mask policy, front-line workers have to enforce the policy without federal support.
IAM members have to confront an unruly passenger who refuses to wear one. This has led to dangerous confrontations, and also places our members in unnecessary risk of being exposed to someone who might be contagious.
In addition to these face to face encounters, there have been many other instances where employees' safety has been compromised. Employees are being told far too late that they have come into contact with a passenger or coworker who has tested positive for COVID-19.
"Employees are scared to come to work," said District 141 Vice President and 29-year Hawaiian Airlines Customer Service Agent Stacey Williams. "They are scared because they feel that there aren't enough standardized regulations that all Americans should abide by. Mixed messages are being sent out and people are confused. When the president disagrees with the top physicians of infectious diseases in the United States, we have a problem."
In addition to possibly being exposed to a dangerous virus, workers have also experienced increased mental and emotional stress over future job security and daily work anxiety.
"Being an EAP Representative, I've seen an increase in requests for help," added Ferm. "Anxiety and fear can lead to depression, and that can, in many cases, lead to substance abuse."
COVID Knows No Bounds
The virus' wide-ranging effects are not confined to urban areas. The horrific impact of COVID-19 is also experienced by members at suburban areas, like those at rail Local 753, who work for Metro-North Railroad in the lower Hudson Valley. This railroad line is used to travel from New York City to points in Connecticut and the southern counties of upstate New York.
This is a government run operation, which falls under the umbrella of the Metropolitan Transportation Authority (MTA), and includes the Long Island Rail Road (LIRR) and New York City Transit (bus and subway).
Workers at this rail shop and yard inspect and repair diesel locomotives, build wheel set assemblies and air compressor units for electric and diesel equipment.
"We had no idea that the virus would hit our area so hard; we do not work in the city," said Matthew Tyler, President and Local Chairman of IAM Local 753. "As of now, three workers have died, many have been hospitalized, and hundreds have been out of work for extended periods.
We believe that all of this could have been prevented if our government had developed a plan to deal with it. Instead, the federal government was caught unprepared and we saw our coworkers get sick and some, unfortunately, died."
IAM Fighting on Capitol Hill
Since the pandemic began, the Machinists have been leading the charge on Capitol Hill to protect our members and the transportation industry. The IAM has been fighting to do what the government hasn't, preserving its members' futures and ensuring their job safety.
The IAM's legislative team's unrelenting work behind the scenes, along with tens of thousands of members inundating their elected representatives with calls and letters, resulted in getting the CARES Act Payroll Support Program (PSP) passed by Congress in March, and at the time of printing was working on getting an extension passed through March 31, 2021. The PSP allocates grants to commercial airlines and airline contractors for the exclusive purpose of keeping employees on payroll with wages and benefits during this unprecedented period for the industry.
"The pandemic has devastated the airline and rail industries for years to come," said IAM Transportation General Vice President Sito Pantoja. "The recovery will be slow and arduous, but the real travesty is the lack of a response from the federal government to ensure the safety of the American people. Politicizing a pandemic is criminal. The Machinists Union will not sit quietly, waiting for the government to do its job. We will continue to lead the fight to secure provisions that will protect all our members and their families. Come November 3, we cannot forget how our lives and families were jeopardized by the federal government's colossal failure of leadership."
The Transportation Department has also been in constant contact with all represented carriers to mitigate involuntary furloughs when government payroll assistance ends, and, in many cases, has negotiated Letters of Agreement that will allow an employee who takes a voluntary leave to receive partial pay, retain their medical status as an active employee and continue their airline traveling privileges.
Other negotiated general safety conditions that apply to many carriers and companies include:
Gloves, face coverings and sanitizers are provided while at work
Protective shields are located at customer facing positions
Increased cleaning frequencies are in place for break rooms and workplaces
Airport parking modification have been made to lessen employee bus reliance
Temperature checks occur in many work locations
Reservations locations have maximized work-at-home
Some airlines have spaced aircraft seating to separate FAs from passengers
"I am grateful the IAM has taken the initiative to secure our futures and did not wait for the government," added Stacey Williams. "Their foresight will help our union get through this pandemic, and we will emerge even stronger."
Machinists Force United Airlines to Backdown
After an intense IAM legislative, legal and public relations campaign, United Airlines was forced to back away from its illegal scheme to force 15,000 full-time IAM members into part-time positions.
After accepting $5 billion from taxpayers as part of the CARES Act, United made the unilateral decision to drastically reduce the wages, retirement benefits and paid leave of IAM-represented Fleet Service and Passenger Service members. The IAM quickly responded with a lawsuit, alleging United had violated the intent of the CARES Act, as well as the Railway Labor Act and the IAM's collective bargaining agreements with the carrier.
In the face of the IAM's lawsuit, pressure from Congress and even public opposition to United's interpretation of the CARES Act by other airlines, United changed its course.
United's plan drew bipartisan scorn, including from U.S. Rep. Sheila Jackson Lee (D-TX), U.S. Rep. Jackie Speier (D-CA) and U.S. Sen. Josh Hawley (R-MO). More than 12,000 messages were sent to members of Congress from the IAM's action alert asking lawmakers to intervene.
The IAM's campaign captivated the attention of the entire labor movement, since United's action threatened to spur other companies to mistreat workers while accepting taxpayer dollars from coronavirus relief legislation. The International Transport Workers' Federation supported IAM members in a letter to United Airlines, urging the carrier to reconsider forced layoffs.
American Airlines challenged United's assertion that the CARES Act's airline relief section allowed for furloughs.
/// This story originally appeared on GOIAM.org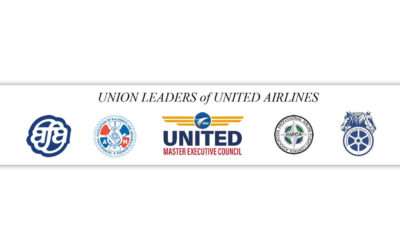 Important Letter from the...