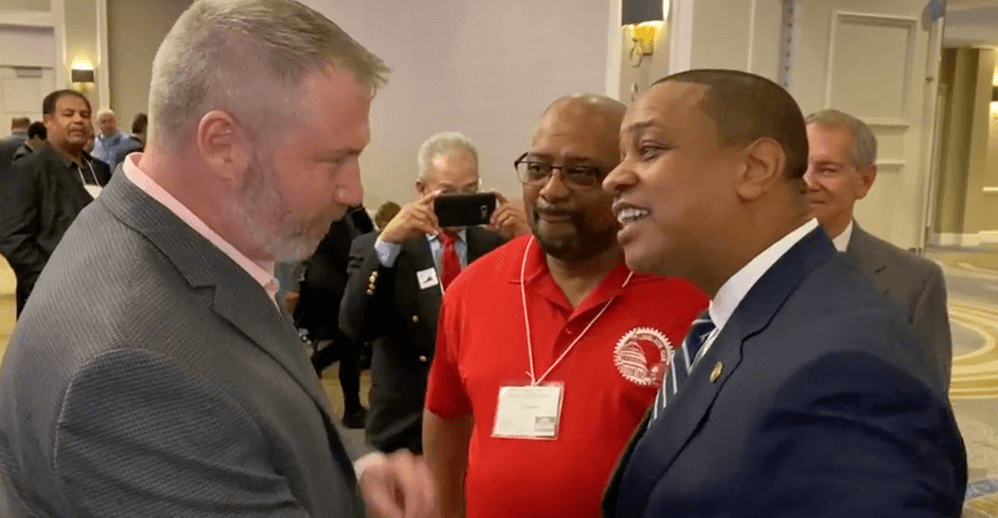 Airline Workers Lobby Virginia Legislators
Members of the Local 1759 Legislative Team joined over 200 union members from across the state at the Virginia AFL-CIO Legislative Conference this week. The opening session featured speeches by Lt. Governor Justin Fairfax and State House Speaker Eileen Filler-Corn, which was followed by meetings with state representatives and lobbying. Bill Peer, Adriana Picasso, and Claudio Nery discussed issues with state legislators and stated our strong support for bills to strengthen collective bargaining rights, raise the minimum wage, boost prevailing wage agreements, repeal of the state's "Right to Work" laws and expand the workers' compensation law so it covers repetitive injuries. Virginia just became the 38th and final state to ratify the Equal Rights Amendment (ERA) which seeks to ban discrimination on the basis of gender and guarantee equality for women under the US Constitution.
The District 141 Machinists Non-Partisan Political League relies on member contributions to advance the interests of airline workers and organized labor in public policy. Please consider becoming a contributing member of the IAM141 MNPL by pledging your support today. Sign up for recurring contributions for any amount at IAM141.org/MNPL. Thank you for your support.