Shares of several airlines have seen a sharp increase in value over the past week, as more travelers begin a slow return, prompting carriers to add more routes and flights to their schedules. While overall demand remains at critical levels, we now have the first clear evidence that the airline industry is beginning to heal from the COVID pandemic. 
In March, Congress approved $50 Billion in aid to airlines, to preserve the highly-trained (and difficult to replace) commercial aviation workforce. Congress also hoped to protect the larger civil aviation networks that provide life-sustaining economic connections throughout the American economy. 
All major airlines have warned that absent another round of help from Congress, America will have a much smaller capacity for air transport and travel. Further, if the direst warnings coming from industry insiders are borne out, the American economy could lose more than a third of the entire civil aviation workforce in the space of just a few weeks starting in October.
Such a massive reduction in jobs would not only cripple any recovery this fall but would also have catastrophic ripple effects throughout the rest of the economy, as businesses that depend on airlines and air shipping lose access to critical parts of their business.

Last week, the industry got a few hopeful signs that air travel would return. United, American, and Delta are filling planes, and are considering adding back flights. Currently, airlines are only operating at certain times of the day, in schedules called "banks." United and American have both reported that they are bringing back a few banks in select hubs that were stopped due to low demand. The latest round of inevitable social media outrage saw shocked Tweets revealing images of airplanes full of passengers. This may have horrified the Twittersphere, but it was cause for celebration for everyone that depends on air travel. Figuring out how to handle too many passengers is a good problem for airlines to have right now.

Along with passengers, investors are also starting to come back.

Shares of United Airlines Holdings Inc. were up 2% in premarket trading on Tuesday, extending a larger 21% rally for the week. The posting represents the largest gains since the COVID pandemic began hitting airlines two months ago.

United reported modest improvement and reduced cancellations during the second quarter, improvements that the company expects to continue through July.

American Airlines experienced a brief 9.2% surge last week, led by upbeat new data from TSA that indicates an increase in travel demand. That report detailed an uptick in passengers overall, showing an average of 205,010 passengers a day going through TSA security checkpoints. This is the fourth straight week that the agency reported an increase.

Overall air traffic is down more than 91% from last year, according to the TSA reports.

The largest transportation and aerospace union in the US is the International Association of Machinists and Aerospace Workers, which includes tens of thousands of airline personnel. IAMAW District President Mike Klemm warned the 38,000 members of District 141 that investor support and passenger demand might not return fast enough to prevent job losses in October.

"To be perfectly clear, if demand for air travel does not rebound before September 30, 2020, there likely will be furloughs at every single US-based airline," Klemm said while promising that the union would prevent involuntary furloughs that violate union contracts and the terms of the CARES Act. IAMAW ramp and customer service workers successfully fought back a plan by United to force furloughs after accepting $5 billion in taxpayer money intended to prevent job losses. 
The union is also proposing several cost-cutting measures to United, including ways to incentivize early retirement through medical bridges. These voluntary measures, along with increased demand for air travel, are welcome signs. 
However, IAMAW District Legislative Director Dave Roderick is also suggesting that the union stay in constant contact with lawmakers. "We need to stay in the conversation," Roderick said. "We need to make sure that our members of Congress understand the facts from the union perspective, which is the side that clocks in and out every day to put food on the table. We can't afford to be passive at this moment. We need to stay engaged, and do whatever we can to impress on lawmakers the importance of passing another assistance package before October," Roderick said.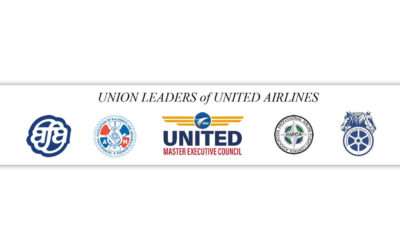 Important Letter from the...