/* social sharing plugin styles */ .dd-spl3 .supsystic-social-sharing a { background-color: #0c0c0d!important; color: #cf7d72!important; margin-left: 5px; margin-right: 5px; } .dd-spl3 .dd-share .supsystic-social-sharing a.social-sharing-button.sharer-flat.facebook:hover, .dd-spl3 .dd-share .supsystic-social-sharing a.social-sharing-button.sharer-flat.twitter:hover, .dd-spl3 .dd-share .supsystic-social-sharing a.social-sharing-button.sharer-flat.pinterest:hover, .dd-spl3 .dd-share .supsystic-social-sharing a.social-sharing-button.sharer-flat.stumbleupon:hover { background-color: #0c0c0d!important; } .dd-spl3 .supsystic-social-sharing .sharer-flat.sharer-flat-8 { width: auto!important; } /* style the category links */ .dd-spl3 .dd-categories a { color: #cf7d72; } .dd-spl3 p.et_pb_title_meta_container { padding-bottom: 5px; } .dd-spl3 .dd-categories a:hover, .dd-meta-author a:hover { opacity: 0.66; } /* set divider margin */ .dd-spl3 .dd-divider { margin-bottom: 0!important; } /* increase paragraph padding */ .dd-spl3 .dd-post p { padding-bottom: 2em; } /* style the comment form */ .dd-spl3 .dd-comment-form .form-submit { float: none; } .dd-spl3 .dd-comment-form.et_pb_comments_0 .et_pb_button, .dd-spl3 .dd-comment-form.et_pb_comments_0 .et_pb_button:hover { padding: 9px 20px!important; } /* responsive media queries */ @media only screen and (min-width: 981px) { /* Remove default padding from body area on desktop*/ .single #left-area { padding-bottom: 0; } } @media only screen and (max-width: 479px) { /* remove boxed layout effect on mobile*/ .dd-spl3 .dd-row { width: 100%!important; } }
United Delays Action Against Employees With Medical or Religious Exemptions
[supsystic-social-sharing id='3']
Facing a lawsuit filed by six United Airlines employees, the carrier has announced that it will postpone the decision to place those with medical or religious exemptions on unpaid leave until October 15. Employees who were denied an exemption have been given individual vaccination timelines from the company, which have not changed. Those who never placed a request for reasonable accommodation must have proof of first vaccination by today, September 27.
The lawsuit is not challenging the vaccine mandate at the airline and is not seeking to delay or stop the requirements that all 67,000 employees at the airline must be vaccinated by today. Instead, the lawsuit asks a Texas court to force the company to revise its "Reasonable Accomodation" policy for those who qualify for medical or religious exemptions. According to the complaint, the existing reasonable accommodation policy discriminates against specific disabilities or religious beliefs. If successful, the lawsuit will require United to allow unvaccinated employees with a medical or religious exemption to remain on the clock and submit to regular testing and masking rules instead of unpaid time off.
However, federal law also allows a company to deny a request for accommodation if doing so would impose an "undue hardship" for the employer. United argues that allowing unvaccinated employees to spread the deadly COVID-19 virus at work represents an undue burden to the airline. Therefore unvaccinated employees must be separated from the rest of the workforce.
"Given our focus on safety and the steep increases in COVID infections, hospitalizations and deaths, all employees whose request is approved will be placed on temporary, unpaid personal leave on October 2 while specific safety measures for unvaccinated employees are instituted," United said in a September memo to employees. "Given the dire statistics…we can no longer allow unvaccinated people back into the workplace until we better understand how they might interact with our customers and their vaccinated co-workers."
According to the complaint, the airline violates Title 7 of the Civil Rights Act of 1964 and the Americans with Disabilities Act by denying pay to unvaccinated employees who are not permitted to enter the workplace.
The lawsuit states that "United's actions have left Plaintiffs with the impossible choice of either taking the COVID-19 vaccine, at the expense of their religious beliefs and their health, or losing their livelihoods." It goes on to argue that, "In doing so, United has violated Title VII and the ADA by failing to engage in the interactive process and provide reasonable accommodations, and also by retaliating against employees who engaged in protected activity."
One of the plaintiffs, Debra Jennefer Thal Jonas, who works as a Customer Service Representative at the United Club at DFW airport, has requested both religious and medical exemptions from the vaccine policy. Ms. Thal was granted a medical exemption but has joined the lawsuit because United did not provide her a way to file a second request on religious grounds.
Another plaintiff, Flight Attendant Genise Kincannon, was granted a religious exemption but is joining the suit because she feels that unpaid leave is unreasonable and a violation of her rights under Title 7 of the Civil Rights Act.
The union representing flight attendants at United, the Association of Flight Attendants (AFA), has said that it will not assist members that apply for vaccine exemptions, saying that the process should be a "private matter."
At a time when mixed messaging can have devastating results, United has struggled to find a consistent narrative on the subject. In January, United CEO Scott Kirby said United could not realistically mandate vaccinations unless other airlines and companies do the same and require their employees to take them as well. By this summer, Kirby had changed course and implemented the most sweeping vaccination requirements of any of the Big Three carriers at the time. United Ground Express, a wholly-owned subsidiary of United Airlines, first told employees that there were no plans to require vaccinations, then changed course less than a month later. United first told employees that they would have to be "fully vaccinated" by September 27. The company is now telling employees that they only need the first shot by that date.
The position of the International Association of Machinists and Aerospace Workers union is that vaccine mandates are unnecessarily controversial and should not be used until a good faith effort to employ incentives has been tried first. Throughout this process, United Airlines has failed to provide clear communications and a consistent policy towards vaccinations.
"The IAM will pursue any grievance where our members were wrongfully denied an exemption and then terminated," IAMAW District President Mike Klemm said in a September 3 statement. "Let me be abundantly clear. Your IAM attorneys have advised us that the company is within its legal rights to mandate the vaccine as a condition of employment so any grievance would be an uphill battle. Morally it's deplorable, but welcome to Kirby Airlines."
IAMAW International President Robert Martinez has also demanded that any vaccine mandates be part of the bargaining process. "The IAM will work to enforce the legal obligation of employers to bargain with unions over effects that implementation will have on union-represented employees," said Martinez. "Rest assured, the IAM will, as always, continue to vigorously protect our members' rights."
All major airlines in the United States have announced plans to implement vaccine requirements, including American Airlines, Delta, Southwest, Hawaiian, Frontier, JetBlue, and United. In September, OSHA began drafting policies that will require all US-based employers with more than 100 workers to require vaccinations protecting against COVID-19 or allow weekly testing.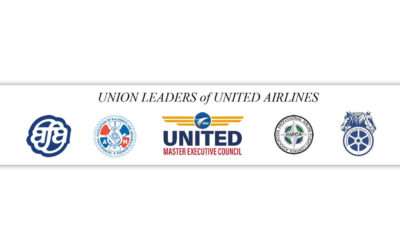 Important Letter from the...