/* social sharing plugin styles */ .dd-spl3 .supsystic-social-sharing a { background-color: #0c0c0d!important; color: #cf7d72!important; margin-left: 5px; margin-right: 5px; } .dd-spl3 .dd-share .supsystic-social-sharing a.social-sharing-button.sharer-flat.facebook:hover, .dd-spl3 .dd-share .supsystic-social-sharing a.social-sharing-button.sharer-flat.twitter:hover, .dd-spl3 .dd-share .supsystic-social-sharing a.social-sharing-button.sharer-flat.pinterest:hover, .dd-spl3 .dd-share .supsystic-social-sharing a.social-sharing-button.sharer-flat.stumbleupon:hover { background-color: #0c0c0d!important; } .dd-spl3 .supsystic-social-sharing .sharer-flat.sharer-flat-8 { width: auto!important; } /* style the category links */ .dd-spl3 .dd-categories a { color: #cf7d72; } .dd-spl3 p.et_pb_title_meta_container { padding-bottom: 5px; } .dd-spl3 .dd-categories a:hover, .dd-meta-author a:hover { opacity: 0.66; } /* set divider margin */ .dd-spl3 .dd-divider { margin-bottom: 0!important; } /* increase paragraph padding */ .dd-spl3 .dd-post p { padding-bottom: 2em; } /* style the comment form */ .dd-spl3 .dd-comment-form .form-submit { float: none; } .dd-spl3 .dd-comment-form.et_pb_comments_0 .et_pb_button, .dd-spl3 .dd-comment-form.et_pb_comments_0 .et_pb_button:hover { padding: 9px 20px!important; } /* responsive media queries */ @media only screen and (min-width: 981px) { /* Remove default padding from body area on desktop*/ .single #left-area { padding-bottom: 0; } } @media only screen and (max-width: 479px) { /* remove boxed layout effect on mobile*/ .dd-spl3 .dd-row { width: 100%!important; } }

Two Machinists Union Members Graduate Thanks to IAM-SUNY Empire State College Partnership
[supsystic-social-sharing id='3']
Two Machinists Union members have successfully completed the bachelor's degree program in Labor Studies through the IAM's partnership with the State University of New York's Empire State College (ESC).
Many thanks to the Machinists & Aerospace journalists at GOIAM.org who wrote and originally published this story. 
Since 2014, the IAM has partnered with ESC to offer associates and bachelor's degrees in labor studies through the Harry Van Arsdale Jr. Center for Labor Studies in New York City. The partnership also offers a master's degree in work and labor policy. Degree programs are conducted online, with week-long residencies that occur once a semester at the IAM's William W. Winpisinger Education and Technology Center in Hollywood, MD.
Midwest Territory Grand Lodge Representative Rick Mickschl graduated summa cum laude with a bachelor of science in labor studies, and Matthew Hanson, a Seattle IAM Local 289 member, graduated summa cum laude with a bachelor of arts in labor studies.
"Congratulations to Grand Lodge Representative Rick Mickschl," said IAM Midwest Territory General Vice President Steve Galloway. "Educating our staff, officers, members and activists is the IAM's top priority. We are proud of all this year's graduates."
"Congratulations to our graduates," said IAM Western Territory General Vice President Gary R. Allen. "As union leaders, it is our calling to continue to grow and learn to enhance our union and our communities."
"This program makes higher education possible for working families," said IAM International President Robert Martinez Jr. "Equipping activists and leaders with tools and knowledge is one of the ways we strengthen the IAM for the future. My sincere thanks and congratulations go to Brothers Mickschl and Hanson for their hard work and dedication in serving our members and the IAM." 
"This is truly a great day for these two members and the IAM-ESC partnership," said Douglas Williams, IAM-ESC Partnership Coordinator. "I have watched Rick and Matthew dedicate themselves to their studies with the same diligence that they have applied to their union work, and I could not be prouder that they have completed this program with the highest distinction." 
If you are an IAM member, retiree or relative, you can go to college, free of charge, and you can learn more about the program here. You can also reach out to Douglas Williams, IAM-ESC Partnership Coordinator, at dwilliams@iamaw.org.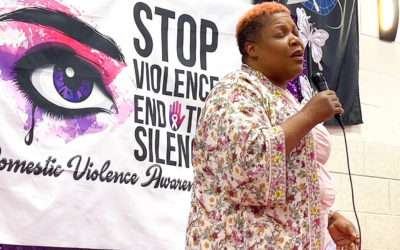 Domestic Abuse Awareness...