Record Number of Attacks on Airline Workers Driven by Mask Mandates, Political Fury
[supsystic-social-sharing id='3']
A report from the Federal Aviation Administration reveals the number of violent attacks against flight crews and airport agents has exploded by over 170% since 2019.
With 2021 approaching its midpoint, the number of assaults against flight attendants and airport gate and ticket agents has already set new records. 
"In 2004, the FAA logged 310 attacks against airline workers," said David Roderick, the Legislative Director for District 141 of the International Association of Machinists and Aerospace Workers, one of the largest unions of airline and transportation workers in the world. "That was the previous record for a full year," he said. "At the end of May, we've already broken that record in 2021. It's outrageous," he said.
As of May 25 of this year, the FAA has recorded 394 potential violations involving unruly passengers, some so severe that the Administration took serious enforcement action. In a typical year, there are about 130 cases reported in a 12 month period. Documented 2021 cases have more than doubled in the first six months, breaking records kept for over 25 years. 
According to Roderick, most of the violence stems from anger at mask mandates and political fury that was manifested in the Capitol insurrection. "Wearing a mask is still required on airplanes and airport facilities. Too many people are refusing to comply, and some people need to be reminded multiple times to pull up their masks to cover their nose and mouth," he said. "Each time an airport agent or a member of a flight crew has to repeat the instructions, the tension level goes up. The fact is, airline workers are risking their safety to enforce mask compliance."
"A huge number of these attacks were clustered around the January 6 riot at the Capitol," he said, referring to reports of unruly and occasionally violent travelers into and out of Washington, DC in early January. "But even if we take out the attacks that occurred around that day, the amount of violence that airline workers are being subjected to is completely off the charts."
On May 23rd, an anti-masker struck a flight attendant on a Southwest flight from Sacramento to San Diego. She lost two teeth in the assault and needed to be hospitalized. The passenger was arrested at the gate, charged with felony assault, and is now permanently banned from the airline.  
Since that vicious assault, Southwest and American Airlines announced they are delaying plans to resume sales of alcoholic beverages on flights. Overconsumption of alcohol has often been cited as a cause for disruptive behavior, and airlines had paused most meal and beverage services to reduce movement around aircraft cabins early in the pandemic. 
Southwest Airlines alone has logged 477 incidents of serious "misconduct" on planes this year. The cases requiring enforcement by the FAA seem like a lot, but the figure does not include thousands of lesser but still severe attacks. According to the FAA, airlines have reported 2,500 cases of "unruly" passengers this year. These incidents include not only physical attacks, but also verbal abuse and threats.  
Of the 2,500 incidents reported by airlines, 1,900 cases involved instances where passengers became violent during an event involving face masks, which are mandated by the US Department of Transportation, not individual airlines. The FAA recently extended the mask requirement through September 13, 2021. 
Four years ago, the International Association of Machinists and Aerospace Workers, and other airline unions began an intense lobbying campaign for stronger protections for airport customer service agents from assault by passengers. Congress responded by expanding protections for airport agents while they are performing their duties in the FAA Reauthorization Act of 2018. The act called for new protocols that place decisions regarding the refusal to transport a passenger after an incident in the hands of law enforcement, not airline supervisors. These provisions were a top priority for airline workers after the FAA logged 91 enforcement actions the previous year. 
The FAA Reauthorization Act of 2018 also increased the penalties for unruly behavior by passengers. Facing the surge of incidents in the past year, the FAA instituted a "zero-tolerance policy" and has been imposing maximum fines of up to $35,000 on passengers that become violent or refuse to wear masks onboard aircraft. According to USA Today, the agency imposed $258,250 in fines and penalties to 27 passengers last month. 
A Government Accountability Office study mandated by the act revealed that over 92% of the airline agents interviewed had experienced verbal harassment from passengers, and over half had either been threatened or had been the target of a physical assault from a passenger while working at the airport. 
The data produced by the study have yet to be applied to institute new procedures or training for workers. Other provisions of the act, such as new rest rules for flight attendants and secondary cockpit doors, have not been fully implemented by the federal government. Most airlines failed to meet a deadline in late 2019 that required them to submit plans to the FAA detailing their new programs to respond to passenger assaults. "This is unacceptable," said Roderick. We fought for these expanded protections, and the federal government has not done their part to follow through on these requirements," he said. 
While he said he is happy to see a crackdown on unruly behavior, Roderick thinks airline workers need to know their rights so they can better protect themselves and the safety and comfort of all passengers. "This includes managers who are sometimes forced to make quick decisions based on incomplete or unclear information," he added. 
"We have legislation in place that passed with bipartisan support to improve the safety of our air travel network," said Roderick. "We need to implement every aspect of the 2018 FAA Reauthorization Act so we can come back from the pandemic with all the tools needed for a healthy recovery. Summer is here, and the flights are filling up. We need to do this now."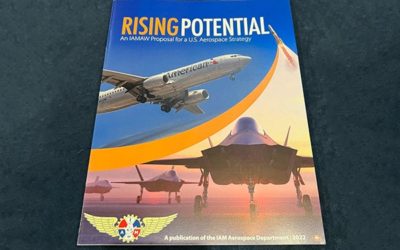 New Machinists Union Report...