Primer on Inside Organizing Committees
Inside Organizing Committees, often referred to as "Inside Committees" are a key part of organizing a workplace. Here's a little more information about how they work.
Got Union questions? Call or text a Union Representative at (954) 298-9138. JetBlue Ground Operations workers can authorize a union vote at the Justice at JetBlue page.
Unions do virtually all their work through committees. Typically, committees are formed by the President of the Local Lodge, following rules that are clearly laid out in the Lodge's By-Laws. Some committees are mandatory, such as the committee that polices company efforts to violate agreements with the union, called a Grievance Committee. 
Other committees are formed to ensure that a particular goal is met. For example, most Machinists and Aerospace Lodges will maintain Retirees, Community Service, and public outreach committees, among others. The President has the authority to form a committee to tackle any task that might arise. 
Committees operate as a team of union members who can agree among themselves on every aspect of the committee. Members will determine when they will meet, how and whether to accept new members and if they will need to raise money to meet their goals. 
WHAT ARE INSIDE COMMITTEES?
This brings us to the Inside Organizing Committee. This committee is unique because it actually has to predate the formation of the union itself. It's a case of which comes first; the chicken or the egg? Organizing Committees have to form without the structures of By-Laws, without experienced union officers among its members. Inside Organising Committees, called "Inside Committees," must start before a Local Lodge even exists for that workplace.  
Another unique aspect of Inside Committees is that they may not be made up of union members (yet!). Inside Committees are created from the employees within the organizing workplace itself. These people then work with Union Organizers who are part of a nearby Local Lodge. 
The first people who approach a union organizer are likely to participate in an Inside Committee in some capacity. Sometimes this activity is informal and just consists of offering advice to the organizers. Other Insiders will take a much more active role. These activists will become the backbone of the union at that workplace. Every Local Lodge has high-ranking officers who once served together on an Inside Committee. This is especially true at newer Local Lodges that can still recall what life was like before they were union. Veterans of organizing campaigns will be widely known at their workplaces as a trusted source of union information. Many Inside Committee members will hold elected union positions and permanent committee assignments once a Local Lodge is formed or joined. 
Union Organizers who work for other employers will want to know more about the workplace; Inside Committees are experts on such topics. 
Joining or starting an Inside Committee requires contacting an Organizer. Very often, Inside Committees conduct their operations in secret, especially at the beginning of campaigns. Therefore, an interested party might not know how to contact them directly. The Union Organizers can help get everyone connected without potentially exposing them to company retaliation. Company intimidation is unlawful but remains a concern at some workplaces that do not have experience with a union. 
WORKING WITH UNION ORGANIZERS – PHASE ONE
The first task of an Inside Committee should be to develop a close working relationship with Union Organizers. Organizers can provide you with the tools you need; handouts, union authorization cards, and training. But, they cannot do the actual work of organizing your workplace. No outsider can possibly know the intricate relationships and personal networks at your job as well as you do. As critical as Union Organizers will be, they will depend on you and your Inside Committee to be effective. They are not "in charge." The Union Organizers are your reinforcements and sponsors and will follow your directives. Their role is to provide you with the tools that you require to run a successful organizing campaign. Remember, your Inside Committee is not a part of a Local Lodge yet. Therefore, you probably won't have easy access to printers, meeting locations, and office supplies. Your Union Organizers can connect you to a sponsor Local Lodge and ensure that your campaign has access to its assets. 
Throughout the organizing effort, the Inside Committee will be running the show.
THE MISSION OF THE INSIDE COMMITTEE – PHASE TWO
As a member of an Inside Committee, you will discuss workplace issues and concerns with other trusted committee members. You will begin laying the groundwork for the formation of the committee itself. You will decide on meeting times and locations, develop formal points of contact with Union Organizers, and appoint a chairperson. If you have a healthy workplace culture, you may even decide that you want to create a liaison between your committee and management. 
Once you create clear lines of communication with Union Organizers and get plugged into a sponsor Local Lodge, the real work of your committee can begin. Organizing a workplace isn't easy. As every activist knows, the first thing to do when you need to accomplish something difficult is to get help. 
The second phase of your campaign, therefore, should center around outreach. Your members should find other pro-union workers and develop plans to advance the cause. Ideally, your committee will expand to include representatives from every shift and work area at your station. 
Outreach can include:
Social media groups and chat rooms.

Casual conversations with coworkers.

Posting meeting information on bulletin boards.
As union power grows, you may decide to conduct formal studies of your work area, such as tracking terminations, incidents, and injuries and making this information available. You can also run regular text and email blasts and conduct polls and surveys. 
This work will provide your committee with an unparalleled view of the workforce. You will know what the priorities of your workplace are, what problems may exist, and determine how unification can advance your interests. 
PHASE THREE AND BEYOND: GETTING TO AN ELECTION
To get to a union vote, a majority of your coworkers must authorize it. This is done by petition. Workers sign specific cards called "Authorization Cards." Once most of your coworkers have signed and return authorization cards, a formal vote will be held to determine if you have successfully organized your workgroup into a union. 
Your committee can get these cards from your Union Organizer. Once they are filled out, you can return them to your organizer, who will deliver them to the Federal Government on your behalf. Organizers will take care of all the legal work using experts who work in other union areas. 
Campaigns like the ongoing effort at JetBlue can also share online links that allow cards to be obtained away from work.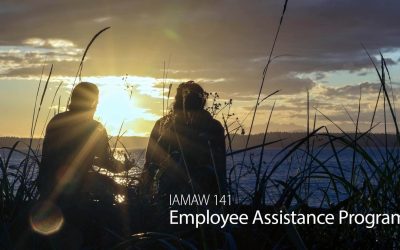 Nov 26, 2021
IAM District Lodge 141...