Pups in Paradise: Golfing for Guide Dogs in Hawaii
Stay up to date with all the latest news and information from the District 141 of the Machinists Union

Pups in Paradise: Golfing for Guide Dogs in Hawaii
+ To support the important work that Guide Dogs is doing, please CLICK HERE
The serene and picturesque Pearl Country Club in Aiea, Hawaii, on the island of Oahu, played host to the 1st annual Pups in Paradise Charity Golf Tournament on Tuesday, September 26. Nestled near the historic Pearl Harbor and the vibrant area of Waikiki, the club is renowned for its stunning views and pristine golf course, making it a sought-after venue for a myriad of events, golf tournaments among them.
The Pups in Paradise Charity Golf Tournament aims to raise funds and awareness for Guide Dogs of America, an organization committed to providing service dogs to individuals who are blind or visually impaired, veterans, and children with autism. The event seeks to support the organization's mission to foster meaningful and transformative relationships between service dogs and their recipients, enabling them to lead more independent and fulfilling lives. The funds raised during this event will contribute to the continuation of the organization's services, which are offered at no cost to the recipients, and help transform lives through partnerships with service dogs.
"I want to express my sincere gratitude to all of the sponsors and donors who made this event possible," said Local 1979 President Derek Morton, who hosted the event. "Without their generous contributions, we would not have been able to achieve such a resounding success. I am truly proud of the hard work and dedication that our local put into making this event happen. Together, we have shown what can be accomplished when we work towards a common goal."
Event organizers said the outing attracted over a hundred golfers who donated $125 each in support of Guide Dogs of America. The players were joined by local businesses and pro-labor groups who sponsored holes throughout the course, adding several thousand dollars in additional donations and other donations. The sponsors included Hawaiian Airlines, who donated $3,500, and United Airlines, who contributed an impressive array of swag items for the golfers. Even more money was raised through raffles and contests, which included a package to the prestigious Hualalai Golf Course on the Island of O'ahu, valued at $1,800.
The effort is estimated to have raised an estimated $10,000 for the charity.
"This is the first year that we've done this," said Stacey Williams, who helped organize the event. "So, we had to build everything from the ground up," she said. "We didn't have anything from previous years that we could use to make sure this would be a success," she added. "This has been a learning experience for all of us, but now we have a foundation that we can build on for next year."
Stacey Williams is a District Vice President for the Machinists Union.
Vice President of Operations for Hawaiian Airlines, Lokesh Amaranayaka, praised the event, saying that the fundraiser was an opportunity for the airline to deepen its connections with the community. "We are a fundamental part of Hawaii," he noted. "When we see this level of community outreach, we need to be there."
Among the dignitaries attending the event was the President of Guide Dogs of America, Russel Gittlen.
"I really want to thank Local 1979 for starting this program," he said of the event. "It takes a lot of work, and we really appreciate everyone who helped put this together."
"And, the help is needed," he explained. "The total costs of breeding, training, and providng each dog is close to $70,000," he said. "And that includes ongoing support; we don't just give the dogs to those in need. We also help people learn to work with their service animal, so they can get the most of their new relationship."
Guide Dogs of America breeds, trains, and delivers service dogs to a range of recipients. In addition to visually impaired persons, the organization also offers assistive dogs to veterans facing challenges related to PTSD, nursing homes, and children with autism. The services are provided at no charge to beneficiaries.
Machinists Union General Vice President Richard Johnsen praised Local 1979 for their commitment to the community and union members. "This is an astounding effort," he said of the outing. "This local deserves to be recognized for the work they've done here and for their unyielding efforts to look out for the membership," he said.
Johnsen led a delegation to Maui earlier in the week, delivering Disaster Relief checks to union members still dealing with the lingering effects of the wildfires that devastated so much of the island. "I'm incredibly proud of the work this local has done to assist union members on Maui," he said. "It's all part of the commitment this local has repeatedly demonstrated to solidarity and service."
In addition to Hawaiian Airlines and United, the outing attracted several sponsors, including National Group Protection, Pepsi, Berkshire Hathaway, 100 Sails Restaurant and Bar, Heineken, Modelo, Corona, the Four Seasons Resort, the Polynesian Cultural Center, and Miller Lite. Generous support was also provided by the Air Transport Territory and District 141 of the Machinists Union.
The outing drew support from all corners of the Machinists Union.
In attendance:
Richard Johnsen, IAMAW General Vice President, Airline Territory
Edison Fraser, IAMAW Airline Territory Chief of Staff
Tom Regan, IAMAW Airline Coordinator
John Coveny, President and Directing Chair, IAMAW District 142
Joe Shultz, Secretary-Treasurer, IAMAW District 142
Stacey Williams, Vice President, Hawaii, IAMAW District 141
Shannon Robello, Assistant General Chair, IAMAW District 141
Troy Rivera, Assistant General Chair, IAMAW District 141
Olu Ajetomobi, Assistant General Chair, IAMAW District 141
Rich Robinson, Assistant General Chair, IAMAW District 141
Kyle Carroll, Assistant General Chair, IAMAW District 141
Cristina Odoardi, IAMAW District 141 Community Service Director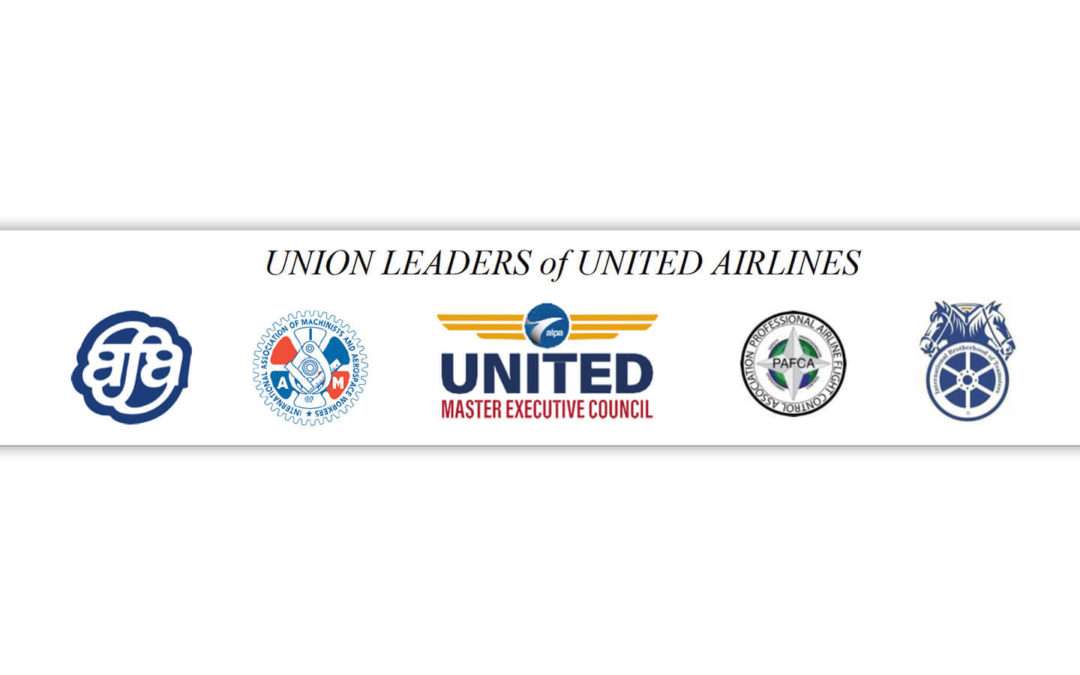 Important Letter from the United Labor Coalition Just over one year ago, the United Airlines Labor Coalition raised its concern over United's codeshare agreement with Emirates Airlines, based partly on accounts of unfair labor practices and employee intimidation in...