Stay up to date with all the latest news and information from the Machinists Union

Millionaire CEO Calls Workers "Arrogant," Calls for Higher Unemployment to Teach Them a Lesson
Tim Gurner, the millionaire CEO of the real estate company Gurner Group, said at a property summit on Tuesday that unemployment needs to increase dramatically in order to remind workers they are not in charge.
"We need to see unemployment rise. Unemployment has to jump 40, 50% in my view. We need to see pain in the economy. We need to remind people that they work for the employer, not the other way around," Gurner said at The Australian Financial Review Property Summit.
Such a jump in unemployment would raise joblessness in the US from about 3.8% to 5.5%.
Gurner believes workers became too "arrogant" and empowered during the pandemic when labor shortages gave them more leverage to demand better pay and working conditions. He wants to see that change.
"There's been a systematic change where employees feel the employer is extremely lucky to have them, as opposed to the other way around," he said. "We've got to kill that attitude and that has to come through hurting the economy."
On Friday, he attempted to walk back the comments somewhat, posting "I want to be clear: I do appreciate that when someone loses their job it has a profound impact on them and their families."
The controversial CEO is infamous for previously claiming that young people can't afford homes because they frivolously spend money on things like avocado toast and coffee.
"When I was trying to buy my first home, I wasn't buying smashed avocado for $19 and four coffees at $4 each," Gurner told "60 Minutes" in 2017. "We're at a point now where the expectations of younger people are very, very high… They want to eat out every day, they want travel to Europe every year."
Now, Gurner believes inflicting economic pain on workers through mass unemployment is the solution to what he sees as a problematic shift in power dynamics between employers and employees.
"I think the problem that we've had is that people decided they didn't really want to work so much anymore through COVID," he said this week. "They have been paid a lot to do not too much in the last few years, and we need to see that change."
Gurner's controversial comments will likely provoke a backlash from workers' rights advocates who argue employees deserve fair treatment and compensation from their employers. But the real estate mogul appears intent on turning back the clock to a time when employers had more power over their workforce.
Last year, S&P 500 CEOs earned an average of 272 times more than their workers, according to the latest Executive Paywatch report from the AFL-CIO. Those CEOs received $16.7 million in total compensation in 2022, on average, while US workers' real hourly wages dropped for the second straight year after adjusting for inflation, the report found.
According to a ranking by the Australian Financial Review, Garner has a net worth of around $917 million.
Millennials face unique economic challenges that have made it difficult to achieve financial stability. Stagnating wages and rising housing costs have made it harder for millennials to afford major life milestones like home ownership. At the same time, the cost of higher education has skyrocketed, leaving many graduates burdened with massive student loan debt that they will still be paying off when it is time to retire. On top of that, millennials entered the workforce during an era of increased automation, job displacement, and recessions that limited opportunities early in their careers. Most millennials are also unlikely to have access to the pensions and strong retirement benefits that previous generations relied on for security in their later years.
Adding to the challenges, most Millenials have no access to labor unions and, therefore, will lack adequate wages and working conditions and will likely retire without a pension.
Add fuel, food, and healthcare costs that are steadily rising; millennials struggle with economic pressures on all fronts. Unless serious policy changes are made, millennials will remain at a financial disadvantage compared to prior generations.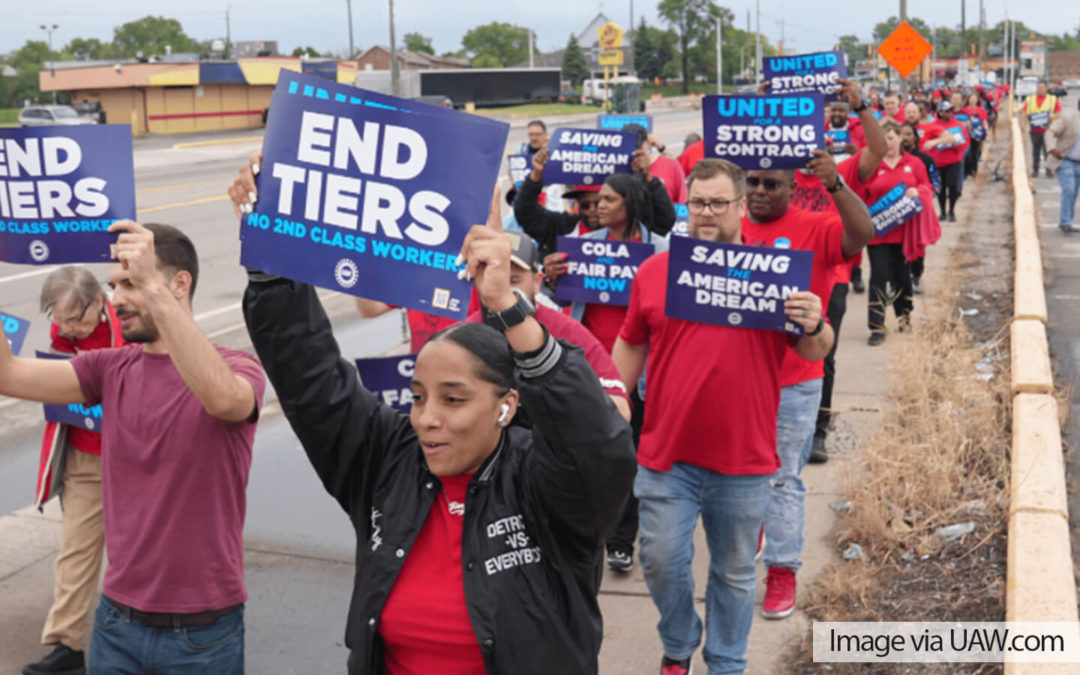 The United Auto Workers are currently engaged in a historic, nationwide strike action in pursuit of fair wages and ending the chronic exploitation of American manufacturing workers. Among the workplace improvements the union is seeking may seem far-fetched: a...