Machinists Union Sisters on the Frontlines
Across the country, women are on the move in the IAM. In the IAM's airline division alone, 13 IAM women serve as local presidents. Some are new to the position, while others have years of service to the membership. All of them are trailblazers.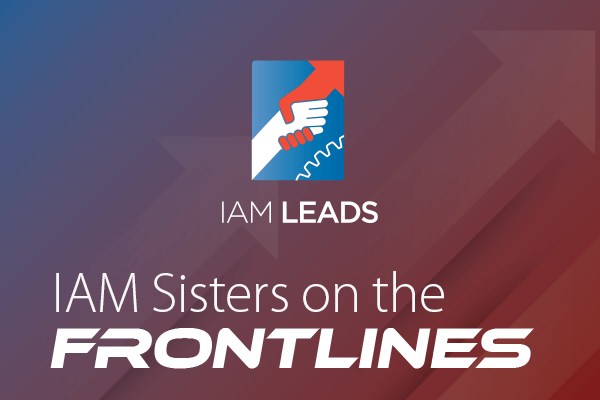 "Each and every one of these women are trailblazers," said IAM Air Transport General Vice President Richard Johnsen. "All of them have led the way and by doing so laid the path for other women to follow behind them.
My appreciation goes out to each of them for their hard work and dedication to the members and the Machinists Union."
Thanks to a newly launched IAM program called "LEADS" which stands for "Leadership Excellence Assembly of Dedicated Sisters," the trend should continue to grow. The LEADS Program is a mentoring program designed to continue the advancement of IAM women by offering new pathways to leadership for the sisters of our union family.
Sharon Sugiyama
Local 2339G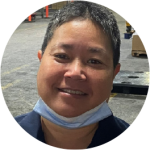 Sharon Sugiyama started her career in June 1992 with Continental Micronesia as an airport sales agent and then a load planning specialist. She also worked as a lead customer service representative and most recently became a storekeeper with United Airlines.
In 1997, when Continental Micronesia was represented by another union, she became a shop steward and was involved with several negotiations. Under that union, she was elected as the committee chair for passenger service and held that position until 2012.
In 2012, during the merger of United Airlines and Continental Airlines, passenger service voted for representation with IAM. Sugiyama was voted in as the president of the new IAM Local 2339G. She continues to hold that position.
In 2015, Sugiyama was appointed the IAM vice president in Guam and most recently was re-elected to serve another four-year term. In 2021, she became an AFL-CIO delegate for the IAM.
Sugiyama credits her success to the IAM leadership and being able to help working people in Guam understand the importance of being a part of the union.
Kiana Peacock
Local 601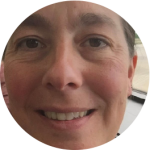 Kiana Peacock was born and raised in Kotzebue, AK, and started with Alaska Airlines in January 1995 as a ramp agent in Kotzebue after graduating from the University of Notre Dame in December 1994.  Peacock transferred to customer service in April 1995 and became a shop steward in 1997 for Kotzebue at the urging of District 143 General Chair Don Welch. 
In 1998, she transferred to Anchorage where she continues to serve as a shop steward. In 1999, she was elected and served as local trustee until 2005. From 2000 until 2010 she was elected and served as chief shop steward. In 2008, she was appointed as District 142 vice president of Alaska Airlines until 2011. She was elected as president of Local 601 in 2005 where she currently serves.
Peacock was elected as a delegate to three Grand Lodge Conventions, District Conventions, and Transportation Conferences. She is especially proud of completing the four-year cycle of leadership programs at the Winpisinger Center.
Lorraine Fraser
Local 846
Lorraine Fraser initiated into IAM Local 846 in Baltimore in 2002 as a customer service agent for Southwest Airlines. Since then she has served as the chairperson for the legislative committee, elected as shop steward, trustee, vice president, and then elected as president of Local 846.
Fraser was recently appointed to vice president of Southwest Airlines at District 142. Safety being one of her priorities, she served as an associate instructor under the IAM CREST U.S. Transportation Department grant. 
Fraser worked on several organizing campaigns for her local lodge, as well as District 141 and 142.
When Fraser first began her union career, she never dreamed where it would take her. She took the position of the legislative committee chairperson as a favor to the local president at the time, and shortly after, she was on the executive board.
Fraser is a very active union member who believes the labor movement has a duty to educate, motivate and inspire the membership to understand the values of our union. She loves the challenges union work brings and enjoys mentoring new stewards and officers. 
Wendy Goodell
Local 1782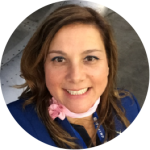 Wendy Goodell began her career at United Airlines in 1997 as a customer service representative at San Francisco International Airport. Because of a passion to travel, along with helping others, her dream has always been to work in the airline industry. Goodell has worked just about every customer service and lead position at United Airlines, including lobby, gates, baggage service, international arrivals and premium service – which consists of the United Club, Global Service and Polaris.
When asked to become a shop steward more than 10 years ago, she expected the role to be temporary. However, she has continued as a shop steward to the present. In her union career, she has also served as Customer Service assistant committee person, IAM Local 1782 vice president and currently serves as its president.
During her long and extensive career at United she has assisted numerous members with issues and or concerns both union and non-union related. Goodell has had the opportunity of attending all leadership classes at the Winpisinger Center, the IAM women's conference in Las Vegas, along with committee conferences and district conventions.    
Lydia Roman
Local 2220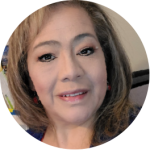 Lydia Roman started with Southwest Airlines in 1999, knowing nothing about unions for years. One day, she needed help from a union representative and could not get it. That's when she started investigating, telling herself no one should struggle to get union help.
Shortly afterward, she became a shop steward at the urging of Larry Morgan and Gary Collins.  Roman says she's very passionate about what she does as a steward, and loves upholding the contract and helping members.
Roman became Local 2220 president in 2017, again pushed to do so by her peers. Currently in her second term, she hopes to run again.
 As the president, she started a political committee and a community service committee. She continues to ensure to the best of her ability that her members have a successful union, and she enjoys attending classes at the Winpisinger Center to learn all that is needed in order to do a good job as president.  
Roman credits Rachel Cavasos, a previous Southwest Airlines agent and local president, with helping her through all of this.  She also looked up to IAM Secretary-Treasurer Dora Cervantes with her courage and strength that pushed her to say, "I can do this." 
Maria Victoria Schoening
Local 845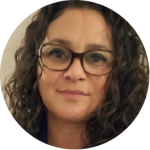 Maria Schoening started at Continental Airlines on the ramp in Cleveland in 2000. She became involved with the IAM during the process of having an election to choose between another union and the IAM. She educated herself about the IAM and decided that was the way she was going to vote, while educating as many of her coworkers as possible about the benefits of being a part of the IAM.
Once they became IAM members, she got involved by first volunteering to help around the local. Shortly after, her union president and chair Tony Media got her involved with the hazardous materials workers awareness train the trainer program for IAM CREST. After completing her training, she was part of the team that helped train other trainers in her station.
Schoening credits the guidance of Committee Chair Rod Fields, who made sure she had the tools and support to get her to this point, along with her former chair and former Local 845 Vice President Scott Mexiner and Assistant General Chair Kyle Carrol.
In January 2022, the opportunity to run for Local 845 president presented itself, and she was elected. Five of the eight board members are women. Schoening says she feels extremely lucky to get to work with these strong, intelligent sisters.       
Dianne Willaum
Local 1894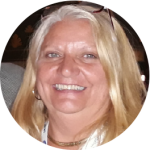 Dianne Willaum became an IAM member in 1987 after joining British Airways in New York. In 1994, she was elected as a shop steward for reservations and related, and in 1995 was elected as chief steward for reservations. In 1996, she was elected as trustee for Local 2656, and served on the negotiating committee until 1999 during negotiations with British Airways. In 1999, Willaum joined the IAM Transportation Organizing Team until 2001, and in 2002 was elected as District 142 vice president of British Airways.
Later in 2002, after a transfer to JFK customer service agent and Local 1894, Willaum was elected as shop steward for customer service, a position she has served now for two decades. In 2004, she was elected as trustee for Local 1894, and in 2007 was elected as the president of Local 1894 serving the membership in that capacity since. In 2020, she retired from British Airways.  
She had the opportunity to work with wonderful union sisters and brothers including General Secretary-Treasurer Dora Cervantes during her two years organizing, and she worked with great members of IAM Headquarters and the Transportation and Legal departments.
Willaum credits the support and opportunities during her years as an IAM member for her success. She says she was very fortunate over the years to have access to some of our great union leaders. Carol Creamer and Maur
Nancy Jakubczak
Local 1635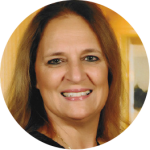 Nancy Jakubczak started with Southwest Airlines in 1994, and admittedly never really understood what a union about in the workforce and had no reason to inquire until witnessing a discussion between a member of management and a co-worker. She questioned the supervisor on his approach and the discussion he was having in front of other members and his response to her was, "why do you care, it's none of your business." Her response was, "you just made it my business by the way you are handling this."
She was inspired to run for shop steward and was elected by her peers and has been representing the work group for over 24 years. The person who played the most important part in her career as a steward was her General Chair Ann Liu.
Eventually she became a trustee for Local 1635, later being asked by President Tish Kellogg to be recording secretary to fill a vacancy midterm and held that position for over six years. She went to training classes at the Winpisinger Education and Technology Center. Her president during the majority of her term was Beverly McMullan, who was a true mentor to her.
McMullan asked Jakubczak to run as her vice president and she gladly accepted. Both were elected by the membership in 2015. Sadly, President McMullan passed away suddenly in December 2016. As vice president, Jakubczak is now holding the position of local president. These were tough shoes to fill, but with the knowledge and friendship she learned from McMullan, she has succeeded.
Mary Sansom
Local 1833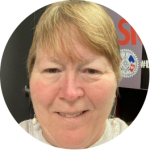 Mary Sansom began with the former Northwest Airlines flight kitchen in Minneapolis as a "packer" and initiated into the IAM in 1973, when co-worker and mentor Carol Borg took her to a union meeting.
 In 1982, the mechanics and related workers went on strike against Northwest Airlines. That's when her union career really took off. The local executive officers at the time did not want women to walk the picket lines, so during the strike they were assigned to manage strike headquarters by answering phones, assigning strike crews, and visiting the picket lines with refreshments.
 In 1988, she attended her first Grand Lodge Convention in Atlanta and has been elected to many more since. She is grateful the Local 1833 membership has honored her so many times to represent them.
When the mechanics, cleaners and custodians voted in 1999 to leave the IAM, new leadership was needed and while she was attending a National Safety Council Labor Division Conference, Sansom learned that she had been nominated for the recording secretary position.
In 2010, Sansom retired from the airline, but not her union. From January 2000 until January 2022, she served as the Local 1833 recording secretary, and in January 2022 she took the oath of office as president of Local 1833. 
Sansom is a proud 48-year IAM member who says "just because I retired from the company does not mean I retired from my union. Go union. Go IAM."  
Kari Hebert
Local 2339N
Kari Hebert became an IAM member in 2010 when she was hired at ExpressJet, and began regularly attending meetings in 2012. In November 2020 she hired on at CommutAir to become an active member again after being furloughed by ExpressJet.
Hebert grew up in a union home, and her mother was an active union member. She was immersed in unionism and understood early on that one must actively participate. In her youth, Hebert held many picket signs, sat outside while her mother was in union meetings, and participated in various community service projects and organizing campaigns. 
She credits her former coworker Banetta Jones with getting her involved with the IAM. She would always ask her to come to a union meeting. Hebert was reluctant at first, but it blossomed from there. Jones would always say "you have to get involved if you want to see the change that you desire."
Along the way, Hebert held many positions including auditor, trustee, vice president, secretary treasurer, and grievance representative. She also served on the jumpseat committee, ERC/ASAP safety committee, women's committee and human rights committee. Hebert worked on the Delta Air Lines organizing campaign in Atlanta and New York. In 2021, she was elected president of Local 2339N.
Jami Meyer
Local 2909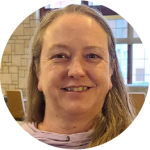 Jami Meyer started with Southwest Airlines in December of 2011 and was initiated into the IAM.
Meyer has been in the airline industry for over 20 years with one airline or another. Because of her experience with her previous airline and no union, she lost pay with no recourse. She vowed not to let that happen again and became active in the union.
She was able to see the benefits of a union and found her voice to make sure that this did not happen again. Former Local 2909 President Carol Johnson took Meyer under her wing and showed her the strength in fighting for what the union stands for and that there is security in the work force.
In 2016, Meyer became a shop steward. In 2018, she was elected as vice president and in February 2022, when Johnson retired as local president, Meyer took over for Local 2909.  
Kelli Apollo
Local 949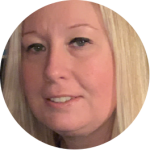 Kelli Apollo initiated into the IAM after joining Southwest Airlines in 2001.
 She admittedly became very vocal during one of their contract negotiations and had lots of questions. That's when former Local 949 President Joy Asbill got Apollo involved, explaining to her that "your voice would be considerably louder if you were active in the lodge." Asbill encouraged her to become a shop steward.
Apollo became an IAM shop steward in 2010, and was elected as a local trustee. In 2015 she became Local 949 vice president. She credits Asbill with mentoring her in all of her executive board positions. In 2017, when Asbill retired, Apollo became president.
Helena Thornton
Local 1725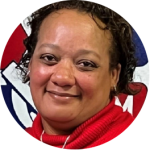 Helena Thornton started her career in August 2006 with US Airways in Charlotte, NC as a part-time fleet service agent and member of Local 1725. She was elected as a Shop Steward in 2008.
When Thornton started, she worked a lot of overtime to make ends meet and would read a lot of the US Airways policies and procedures to ensure she was working safe and would go back home the way she came into work that day. She was introduced to the grievance committee and they talked to her about the benefits of unionism and what it meant to her and her family. 
As time passed, she found herself speaking up for what was right for members in many different situations and they would ask, "Helena, this has happened to me and I don't think that's right? Could you help me?" More and more she found herself helping members get their point across or making sure management was upholding the contract.
In 2010 she ran for conductor sentinel and lost by three votes, but never gave up, working harder to learn and it paid off because she was then elected to her first District 141 convention. Her hard work and determination to learn more paid off when she ran in 2013 for conductor sentinel and won.
She also became a delegate for her local lodge and attended her first Grand Lodge Convention, as well as the Transportation Conference and the women's and human rights conference. During this time, she served on her local lodge's women's committee.
In 2016, Thornton was elected to serve as Local 1725's recording secretary.
During her term as recording secretary, she was appointed to be an auditor to District 141. In 2019, Thornton was one of the three honorary recipients of the community service award from the Women's Department at the IAM Women Rising Conference.
In 2022, Thornton was elected as the first woman president of her lodge.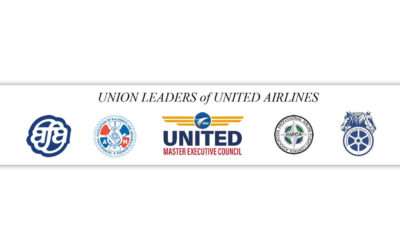 Important Letter from the United Labor Coalition Just over one year ago, the United Airlines Labor Coalition raised its concern over United's codeshare agreement with Emirates Airlines, based partly on accounts of unfair labor practices and employee intimidation in...