/* social sharing plugin styles */ .dd-spl3 .supsystic-social-sharing a { background-color: #0c0c0d!important; color: #cf7d72!important; margin-left: 5px; margin-right: 5px; } .dd-spl3 .dd-share .supsystic-social-sharing a.social-sharing-button.sharer-flat.facebook:hover, .dd-spl3 .dd-share .supsystic-social-sharing a.social-sharing-button.sharer-flat.twitter:hover, .dd-spl3 .dd-share .supsystic-social-sharing a.social-sharing-button.sharer-flat.pinterest:hover, .dd-spl3 .dd-share .supsystic-social-sharing a.social-sharing-button.sharer-flat.stumbleupon:hover { background-color: #0c0c0d!important; } .dd-spl3 .supsystic-social-sharing .sharer-flat.sharer-flat-8 { width: auto!important; } /* style the category links */ .dd-spl3 .dd-categories a { color: #cf7d72; } .dd-spl3 p.et_pb_title_meta_container { padding-bottom: 5px; } .dd-spl3 .dd-categories a:hover, .dd-meta-author a:hover { opacity: 0.66; } /* set divider margin */ .dd-spl3 .dd-divider { margin-bottom: 0!important; } /* increase paragraph padding */ .dd-spl3 .dd-post p { padding-bottom: 2em; } /* style the comment form */ .dd-spl3 .dd-comment-form .form-submit { float: none; } .dd-spl3 .dd-comment-form.et_pb_comments_0 .et_pb_button, .dd-spl3 .dd-comment-form.et_pb_comments_0 .et_pb_button:hover { padding: 9px 20px!important; } /* responsive media queries */ @media only screen and (min-width: 981px) { /* Remove default padding from body area on desktop*/ .single #left-area { padding-bottom: 0; } } @media only screen and (max-width: 479px) { /* remove boxed layout effect on mobile*/ .dd-spl3 .dd-row { width: 100%!important; } }
Machinists Union Communications Wins Labor Journalism Awards
[supsystic-social-sharing id='3']
The IAM Communications Department has been recognized as one of the best communications teams in the labor movement by winning three awards in the International Labor Communications Association's 2021 Labor Media Contest.
The annual ILCA Labor Media Awards Contest recognizes excellence among union publications, websites, film, video, and other media. It is the first and largest competition exclusively for labor journalists. The 2021 winners represent the best work in labor communications and promote the highest standards of labor journalism during the 2020 calendar year.
The IAM Communications Department won awards from the IAM Journal, earned media and in video production.
ILCA's Saul Miller award highlights writing related to some of the key activities of unions: organizing, collective bargaining and political action. The awards honor the late Saul Miller, a director of the AFL-CIO Department of Information and a founder of ILCA.
Here are the awards received by the IAM:
First Place
Writing – Saul Miller Awards – Collective Bargaining
Local S6 Built is Best Built
Andrew Hounshell
Second Place
Best Use of Earned Media
IAM Local S6 Strike
Jonathan Battaglia and Hasan Solomon
Second Place
Electronic Media – Best Longform Video
Broken Promise: Harley-Davidson in Missouri
Valana Cochran and Deirdre Kaniewski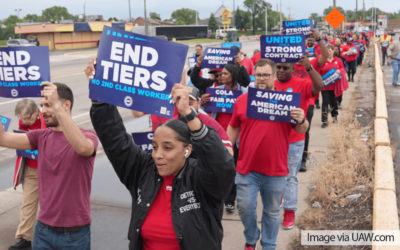 The United Auto Workers are...