/* social sharing plugin styles */ .dd-spl3 .supsystic-social-sharing a { background-color: #0c0c0d!important; color: #cf7d72!important; margin-left: 5px; margin-right: 5px; } .dd-spl3 .dd-share .supsystic-social-sharing a.social-sharing-button.sharer-flat.facebook:hover, .dd-spl3 .dd-share .supsystic-social-sharing a.social-sharing-button.sharer-flat.twitter:hover, .dd-spl3 .dd-share .supsystic-social-sharing a.social-sharing-button.sharer-flat.pinterest:hover, .dd-spl3 .dd-share .supsystic-social-sharing a.social-sharing-button.sharer-flat.stumbleupon:hover { background-color: #0c0c0d!important; } .dd-spl3 .supsystic-social-sharing .sharer-flat.sharer-flat-8 { width: auto!important; } /* style the category links */ .dd-spl3 .dd-categories a { color: #cf7d72; } .dd-spl3 p.et_pb_title_meta_container { padding-bottom: 5px; } .dd-spl3 .dd-categories a:hover, .dd-meta-author a:hover { opacity: 0.66; } /* set divider margin */ .dd-spl3 .dd-divider { margin-bottom: 0!important; } /* increase paragraph padding */ .dd-spl3 .dd-post p { padding-bottom: 2em; } /* style the comment form */ .dd-spl3 .dd-comment-form .form-submit { float: none; } .dd-spl3 .dd-comment-form.et_pb_comments_0 .et_pb_button, .dd-spl3 .dd-comment-form.et_pb_comments_0 .et_pb_button:hover { padding: 9px 20px!important; } /* responsive media queries */ @media only screen and (min-width: 981px) { /* Remove default padding from body area on desktop*/ .single #left-area { padding-bottom: 0; } } @media only screen and (max-width: 479px) { /* remove boxed layout effect on mobile*/ .dd-spl3 .dd-row { width: 100%!important; } }
JetBlue Accused of Misusing Aid Funding
[supsystic-social-sharing id='3']
The largest union of transportation and airline workers in North America is accusing JetBlue of diverting money intended to go to employee payrolls and pocketing it instead.
In a hotly-worded letter to CEO Robin Hayes, Assistant Airline Coordinator for the International Association of Machinists and Aerospace Workers (IAMAW), James Carlson called out the airline for siphoning a portion of the $1.5 billion JetBlue collected in federal payroll support away from front-line workers. 
"JetBlue received approximately $1.5 billion in taxpayer funded grants and loans from the CARES ACT, which was supposed to protect the jobs, pay, and benefits of JetBlue Crewmembers," the letter to Robin Hayes read. "However, you and your management team cut the hours, pay, and benefits of these hard-working employees in 2020. These actions, which, in my opinion, violated the intention and spirit of the Payroll Support Program (PSP) of the CARES ACT, must be rectified."
In 2020, as the pandemic devastated air travel, a coalition of unions and airlines lobbied Congress to provide emergency funds to cover payrolls for the nation's carriers. Airline workers are highly trained and can be very difficult to replace. The Payroll Support Program allowed airlines to retain their workforces and recover from the pandemic much faster. 
JetBlue received $1.5 billion from the program, a sum based on how much the airline spent on payroll in 2019. This amount should have been sufficient to cover labor costs in 2020, according to the IAMAW. JetBlue promised to retain its entire workforce and not conduct layoffs, terminations, or reduce hours or wages as part of the deal.
However, JetBlue executives reneged on their promise, cutting hours, and canceling scheduled pay raises immediately after collecting billions in taxpayer aid. The company also did not replace workers who were fired or who quit. According to the union, all of this resulted in payroll costs that were much lower than they were in 2019, allowing the airline to keep the extra taxpayer funding as profit. "Sadly, you and your management team didn't stop mistreating GO Crewmembers after you wrongly cut their hours, pay and benefits," Carlson said to Hayes in the letter.
"Crewmembers have not received a single penny in much-deserved wage increases. Crewmembers are working short, in very unsafe conditions, with minimal break time. You even abolished the lead classification, which will lead to operational confusion and a very unfair pay structure," the union said.
The International Association of Machinists and Aerospace Workers took action against United Airlines over similar conduct in 2020 when the airline tried to cut the hours of full-time workers after that airline accepted PSP funding. The union argued that reducing full-time workers to part-time status was a form of involuntary layoff and, therefore, a violation of the CARES Act. Union members working the United ramp and ticket counters mobilized, reaching out to the lawmakers who provided airlines with the PSP funding. The airline was eventually forced to abandon its plan to cut employee hours to prevent court action from the union. 
The union is calling for JetBlue to repay their front-line Crewmembers immediately. "JetBlue Crewmembers deserve better," the union told CEO Robin Hayes. "They deserve to be repaid the money you wrongly took from them last year. They deserve to have their 401k accounts
increased by the exact amount that was lost due to their working hours/pay being wrongly cut. Crewmembers deserve to work with proper manpower in safe conditions. Crewmembers who you have told to stay home and take a COVID-19 test if they feel ill should NOT suffer any adverse disciplinary action. And Crewmembers deserve wage and benefit increases and improvements to their working conditions right now."
The full letter can be read here.
The International Association of Machinists and Aerospace Workers is fighting for the interests of front-line Ground Ops Crewmembers at JetBlue. Crewmembers can join this effort by signing a union election authorization card.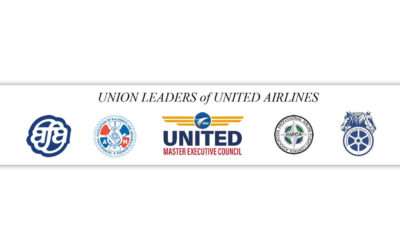 Important Letter from the...