Stay up to date with all the latest news and information from the Machinists Union

Ingestion Fatality at SAT Airport Ruled a Suicide
In a tragic incident late Friday night at San Antonio International Airport, a ground crew member, David Renner, 27, lost his life after he was pulled into the engine of a Delta Air Lines plane. Firefighters and police officers responded to the event around 10:25 p.m.
According to the National Transportation Safety Board (NTSB), "Delta Flight 1111 was taxiing to the gate, with one engine on at that time, and a worker was ingested into that engine at 10:25 p.m." The NTSB confirmed the incident on Saturday, stating the man was indeed "ingested" into the engine. The flight had just arrived from Los Angeles.
According to a report from the San Antonio Express, the plane's captain "felt the aircraft shake," as Renner was pulled into the engine. A police report indicated that Renner passed a suicide note to a coworker, wrapped in a one-dollar bill. He then watched as Renner walked, "to the captain's side of the jet, bend down and jump up into the engine."
On Monday, the Bexar County Medical Examiner ruled his cause of death as blunt and sharp-force injuries, and listed the manner of death as suicide.
This information was also provided to the NTSB, who responded, "The NTSB will not be opening an investigation into this event. There were no operational safety issues with either the airplane or the airport," indicating a belief that the tragic event didn't raise concerns about overall airport safety.

Renner was employed by Unifi Aviation, a company Delta Airlines contracts to support ground-handling operations. The Federal Aviation Administration, which regulates airlines and aviation safety, has indicated that it would proceed with an investigation into the incident.
Responding to the incident, Delta said it was "grieving the loss of an aviation family member's life in San Antonio." The airline expressed its full support for the ongoing investigations.
Unifi Aviation has been wracked with employee complaints over poor training, short staffing, and low pay, all of which contribute to extraordinary levels of turnover at the company. The mass influx of new and inexperienced employees is a safety concern, according to industry experts.
"My experience here at Unifi in MSO has been highly unsatisfactory," said one worker who did not want to be named. "Largely due to the inadequate trainers and ineffective leadership," he continued. The contractor holds a two-star rating from employees on Glassdoor.com. Only 42% of current employees would recommend working at Unifi to a friend.
In a short statement, the company was quick to disavow itself of any responsibiity in the fatality.
The statement read, "Unifi Aviation is deeply saddened by the loss of our employee at San Antonio International Airport during a tragic incident in the late hours of Friday, June 23, 2023. Our hearts go out to the deceased's family, and we remain focused on supporting our employees on the ground and ensuring they are being taken care of during this time. From our initial investigation, this incident was unrelated to Unifi's operational processes, safety procedures, and policies. Out of respect for the deceased, we will not be sharing any additional information. While police and other officials continue to investigate this incident, we defer to them on providing further details."
Unifi, like Delta, is based in Atlanta and describes itself as North America's largest ground-handling and aviation services provider, boasting a workforce of 20,000 aviation workers who handle baggage, cargo, catering, fueling, and other jobs at 200 locations.
According to online job postings, Average Unifi hourly pay for new employees starts at approximately $11.94 per hour.
This Message Found You For A Reason

Life has a way of throwing challenges at us, but you don't have to face them alone. District 141's Employee Assistance Program (EAP) is here for you.

Remember, reaching out for help is not a sign of weakness, but a strength. EAP offers free, professional, and compassionate assistance to all members of District 141 who may be struggling with life's difficulties, be it personal or work-related.

Start your journey towards better health and wellbeing today. Click here to learn more about the District 141 EAP and how it can assist you. You're not alone, and help is just a click away.

  

You've got this, and we've got you.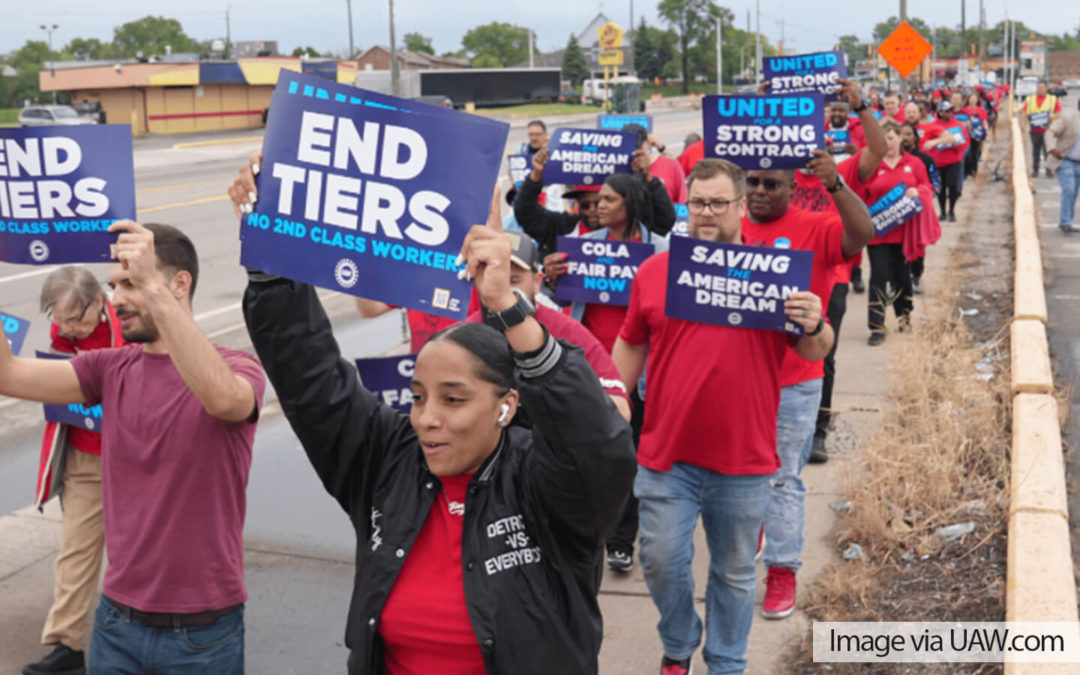 The United Auto Workers are currently engaged in a historic, nationwide strike action in pursuit of fair wages and ending the chronic exploitation of American manufacturing workers. Among the workplace improvements the union is seeking may seem far-fetched: a...