Stay up to date with all the latest news and information from the Machinists Union
Here's the Difference Between Heat Stress, Exhaustion, and Stroke
Heat-related injuries and sickness can often be hard to understand because the words used to describe them can be tricky. With hot weather warnings in the U.S., it's crucial to understand terms like heat stress, heat exhaustion, and heat stroke.
Think about a hot day at the beach when the temperature is around 90°F. It feels great until you start doing something that makes your body work hard, like gardening, hiking, or running for the bus. This effort makes your body temperature go up. Your heart tries to help by sending more blood to your skin, where it cools down thanks to your sweat. But if you can't sweat because you're dehydrated, if the air is too humid for sweat to evaporate, or if it's just too hot for your body to handle, you could get heat injuries or sickness.
If you feel that your work area is vulnerable to heat injuries, you can take action. File a safety report and help protect your coworkers.
+ File a Safety Report

Heat Stress
"Heat stress" is a term for any problem that happens when you're active in hot weather. Symptoms like heat rash, cramps, dizziness, or fainting are signs that your body is having trouble cooling down. If you don't do something about it, heat stress could turn into something more serious, like heat exhaustion or heat stroke.
If you're suffering from heat stress, you should stop what you're doing, find a cooler, shady place, and slowly drink water or clear juice. Cramps usually happen when your body has lost too much water and salts through sweating. Drinks like Gatorade or Pedialyte can help replace these, but avoid energy drinks since caffeine can cause dehydration. If the cramps don't get better within an hour, or if you have heart problems or need to limit your salt intake, you should go to the clinic or see a doctor.
Heat Exhaustion
Heat exhaustion happens when your body has lost too much water and salts because of sweating. You might feel sick, vomit, faint, slur your words, feel weak, get a headache, feel irritable, have clammy skin, and your body temperature might increase. If you get heat exhaustion many times, it can hurt your organs, especially your kidneys. Very bad heat exhaustion can cause muscle breakdown that can lead to heart rhythm problems, seizures, and damage to your kidneys.
If you or someone else has heat exhaustion, you should move to a cool place (with air conditioning if possible) and take small sips of cool liquids. Call 911 if you can't get the person to a clinic or emergency room. Take off shoes, socks, and any tight or heavy clothes, and use water or cold compresses on the head, face, neck, and wrists.
Heat Stroke
Heat stroke is the worst kind of heat sickness. It happens when your body can't control its temperature and gets hotter than 104°F. You might stop sweating, and your body temperature can reach 108°F in just 10-15 minutes. Other symptoms can include passing out, having seizures, or acting strangely without quick medical help, which could include a cold IV drip; heat stroke can cause disability or death in a few hours.
Heat-related illnesses, such as heat stress, heat exhaustion, and heat stroke, can be serious and life-threatening if not properly addressed. It's crucial to stay hydrated, take breaks, and seek cool environments when spending time in the heat. Should symptoms of any heat-related illness appear, take immediate action and seek medical attention if necessary. Stay safe and informed during the hot weather, because understanding these conditions can make a significant difference in your health and well-being.
Remember, if you see anyone suffering from heat related injuries, it is important to file a GSAP, GSIP, or equivalent safety report as soon as it is safe to do so. GSAP and GSIP reports are non-punitive, and offer the best way to protect your work area from safety hazards such as heat-related injuries.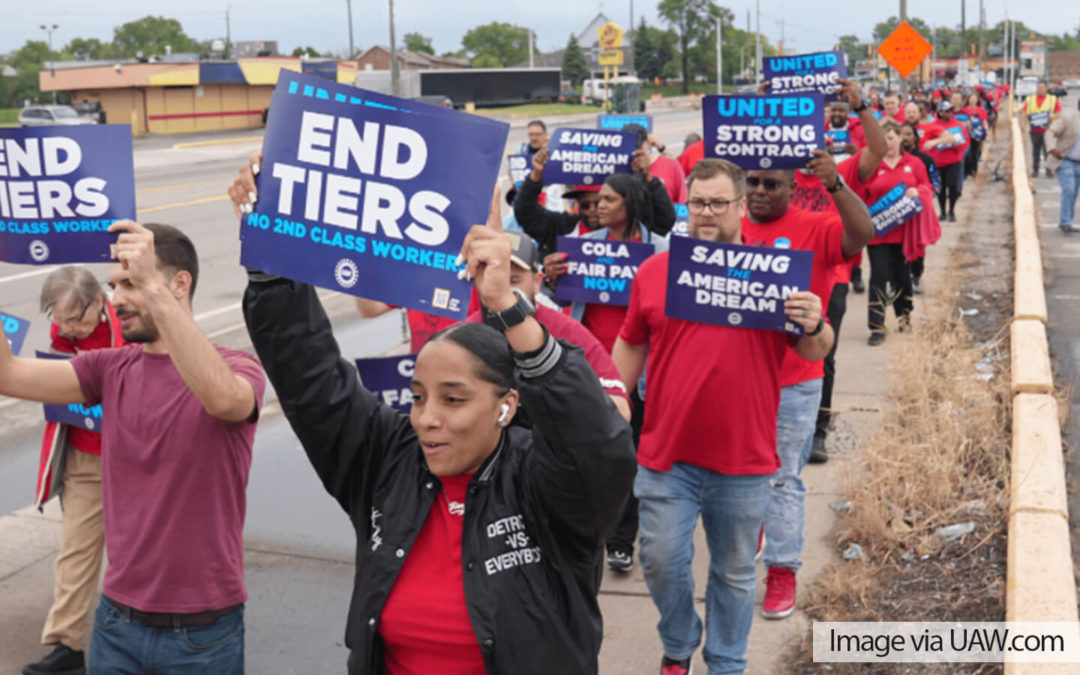 The United Auto Workers are currently engaged in a historic, nationwide strike action in pursuit of fair wages and ending the chronic exploitation of American manufacturing workers. Among the workplace improvements the union is seeking may seem far-fetched: a...