On the 20th day of the partial federal government shutdown, workers, union leaders, members of Congress and allies gathered in front of the AFL-CIO headquarters in Washington, DC.
AFL-CIO President Richard Trumka kicked off the rally by denouncing the shutdown, which has become the longest and most painful in American history.
"That is not a record that anyone should be proud of. And let's call this shutdown what it is: it's a lockout. Hard working American patriots are being locked out of their jobs for no reason other than the politics of fear."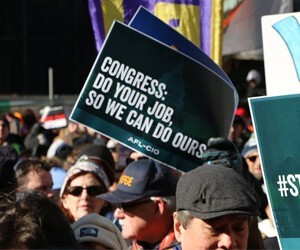 Representatives of IAM141 joined in solidarity with union activists from the National Federation of Federal Employees (NFFE), the IAMAW affiliate that was a lead organizer of the rally. Randy Erwin, NFFE National President, described union members who feel as if the "carpet (was) ripped out from under them" and asked, "How out of touch is this president?"
Erwin introduced NFFE member Jamie Rodney, who as a Federal Investigator for the Department of Housing and Urban Development (HUD) enforces fair housing and civil rights laws. She warned that HUD rental assistance payments that millions of people rely on would not be available during the shutdown.
IAM General Vice-President Bryan Bryant stressed the real-life consequences of the shutdown politics:
"Not once did (the president) mention the impact on federal workers, federal contractors, their communities and their families. Not once did he mention that one-third of federal workers are veterans. Not once did he mention the damage that is being done to the American people and our economy."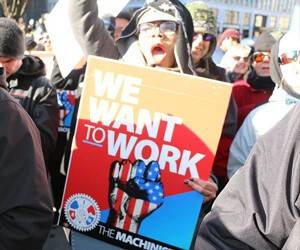 Economists at Standard & Poor estimate that the shutdown has dropped the nation's economic output by over $6.5 billion per week. The US Travel Association, a non-profit advocacy group, estimates a loss of $152 million per day in the industry, based in part on expected reductions in business travel for federal employees and government contractors.
GVP Bryant invited IAMAW member Steve Ching to the podium. Ching is an Industrial High Voltage Technician whose responsibilities include monitoring the power grid at the Kennedy Space Center. He spoke about the dilemma federal workers face: "How long will our families be able to hold out? What about medical insurance? We love our jobs but hate this uncertainty. Many have questioned if they should move on to another job. If these workers go on to other jobs, the space program will suffer. These are highly trained, skilled professionals with security clearances and certifications that will be hard to replace. Working America wants to go back to work. Hard working Americans like myself are being used as pawns in this great political divide. Congress and the President must put aside political differences, reopen the government and work together to solve America's problems just like they always have in this great country."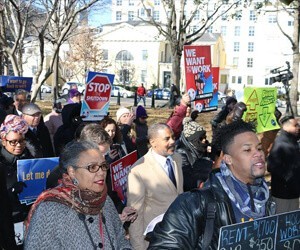 Elected officials, including several members of Congress, called for fairness for the furloughed workers, demanding that a "clean" bill be put for a vote on the Senate floor to get workers back to their jobs, leaving negotiations on immigration and border security for a later discussion. Sen. Mazie Hirono (HI) called out Senate Majority Leader Mitch McConnell (KY) demanding that "the man missing in action come out of hiding and do his job so we can all do our jobs." Several senators echoed her call, pointing out that the US Senate, as an independent branch of government, has the power to override a president's veto with a 2/3 majority vote.
Union leaders pledged steadfast and unified action in support of working women and men at similar rallies across the country. Hundreds of union leaders from a range of industries promised to continue to speak out, march and take any additional necessary actions in support of their members.
So far, two unions are suing the federal government arguing it is against the law to mandate employees to work without pay. GVP Bryan Bryant agreed, and called it "unconscionable."