/* social sharing plugin styles */ .dd-spl3 .supsystic-social-sharing a { background-color: #0c0c0d!important; color: #cf7d72!important; margin-left: 5px; margin-right: 5px; } .dd-spl3 .dd-share .supsystic-social-sharing a.social-sharing-button.sharer-flat.facebook:hover, .dd-spl3 .dd-share .supsystic-social-sharing a.social-sharing-button.sharer-flat.twitter:hover, .dd-spl3 .dd-share .supsystic-social-sharing a.social-sharing-button.sharer-flat.pinterest:hover, .dd-spl3 .dd-share .supsystic-social-sharing a.social-sharing-button.sharer-flat.stumbleupon:hover { background-color: #0c0c0d!important; } .dd-spl3 .supsystic-social-sharing .sharer-flat.sharer-flat-8 { width: auto!important; } /* style the category links */ .dd-spl3 .dd-categories a { color: #cf7d72; } .dd-spl3 p.et_pb_title_meta_container { padding-bottom: 5px; } .dd-spl3 .dd-categories a:hover, .dd-meta-author a:hover { opacity: 0.66; } /* set divider margin */ .dd-spl3 .dd-divider { margin-bottom: 0!important; } /* increase paragraph padding */ .dd-spl3 .dd-post p { padding-bottom: 2em; } /* style the comment form */ .dd-spl3 .dd-comment-form .form-submit { float: none; } .dd-spl3 .dd-comment-form.et_pb_comments_0 .et_pb_button, .dd-spl3 .dd-comment-form.et_pb_comments_0 .et_pb_button:hover { padding: 9px 20px!important; } /* responsive media queries */ @media only screen and (min-width: 981px) { /* Remove default padding from body area on desktop*/ .single #left-area { padding-bottom: 0; } } @media only screen and (max-width: 479px) { /* remove boxed layout effect on mobile*/ .dd-spl3 .dd-row { width: 100%!important; } }
Airline and Rail Members Fight Though Pandemic, Understaffing to Keep America Moving
[supsystic-social-sharing id='3']
This story first appeared on GOIAM.org >
The IAM Transportation Department includes more than 160,000 active and retired members in the airline and rail industries, making it the largest airline union in North America. Its members have always been on the front lines, moving travelers and goods across the world, but the effects of the COVID-19 pandemic have brought upon added stress, responsibilities and, in some cases, confrontations with unruly passengers.
"Our transportation membership in the airline and railroad industries have been nothing short of heroes during these difficult times," said Richard Johnsen, Chief of Staff to the International President and a former United Airlines mechanic. "The Transportation Department is engaged at the local, district and international level to negotiate strong contracts, keep our members safe on the job and continue to fight for and win much-needed relief for our members."
Since the start of the pandemic, and thanks to the IAM's activism, U.S. airlines have received $54 billion in federal aid to help cover payroll expenses. In return, carriers were prohibited from furloughing or laying off workers. However, they were allowed to persuade tens of thousands of employees to take buyouts, early retirement or leaves of absence.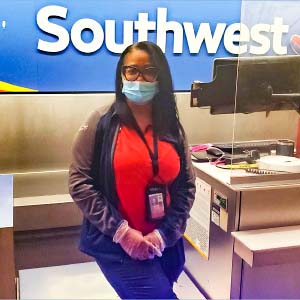 Nina Caldwell (Southwest Airlines)
IAM Member, Local 846 (District 142)
The number of people flying daily in the U.S. is getting closer to pre-pandemic levels, even though business and international travel have been slow to resume. Airlines and airports have struggled to accommodate this influx through proper staffing, which has resulted in longer customer service wait times, significant flight delays and sudden cancelations. In some cities, airport concession stands and restaurants aren't fully staffed or open, leaving stranded travelers with fewer options for food and beverages, thereby increasing passenger irritability.
"Airlines were not prepared for the number of passengers traveling so soon after restrictions were lifted," said Southwest Customer Service Agent Nina Caldwell, a Local 846 (District 142) member.
Passengers whose flights aren't canceled or delayed still risk being on board with troublesome passengers. Airlines have reported more than 3,200 incidents of unruly passengers in 2021. Most involve people refusing to wear masks, as required by the federal government.
The passengers who have refused to put a mask on have left many airline personnel, especially customer service agents and flight attendants, in the precarious position of enforcing this mandate.
"I had an incident where I asked a lady if she had a mask and she proceeded to get in my face, not wearing a mask, yelling at me that she didn't need to wear a mask and asking me what am I going to do about it," said Caldwell. "She said she would rather die than wear a mask. Luckily, the airport police walked by and she backed up and put on her mask. After the police left, she came back, stood in front of me and stared me down."
"Due to poor scheduling and understaffing throughout airport operations and the added responsibility of enforcing the mask mandate, several flight attendants had multiple encounters with unruly passengers," said Lisa Ferm, a CommutAir Flight Attendant and Local 2339N (District 142) member. "Many have been threatened and felt unsafe, but each time me and my coworkers have been able to de-escalate the situation. Because of our IAM contract with CommutAir, the company has addressed these occurrences and provided assistance. I do feel grateful to a part of the IAM because I know our representatives have been going above and beyond fighting to protect us."
Understaffing has also caused issues for other IAM-represented groups like Fleet Service Agents.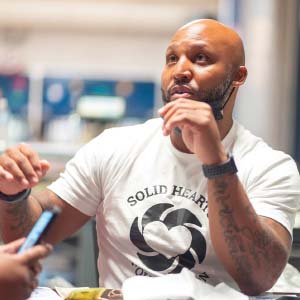 Larry Reeves (American Airlines)
President, IAM Local 1776
Larry Reeves, an American Airlines Fleet Service Agent and Local 1776 president, says understaffing has also caused problems for Fleet Service workers, but "because of our ironclad IAM contract and lobbying done by our legislative team, there was a recent hiring surge, bringing 50 new part-timers into the fold in Philadelphia."
"These new hires will help alleviate some of our workload issues and, hopefully, get our workforce to the point where we can provide the service to our passengers that they deserve," said Reeves.
The IAM has been urging lawmakers and other federal officials to step up measures to protect the safety of airline workers in recent months. That includes Richard Johnsen, Chief of Staff to the International President, taking part in the Aviation Labor Recovery Roundtable call with FAA Administrator Steve Dickson and U.S. Transportation Department Deputy Secretary Polly Trottenberg.
Johnsen then urged participants on the call to share the union's urgency to assure airlines properly staff positions, adding that "airlines were granted billions of dollars in federal relief from this administration to address these problems, and they must act now."
How understaffing is affecting the Precision Rail
IAM District 19 represents 11,000 active Machinists across the country, including every Class 1, commuter railroad, Amtrak and many others. The Transportation Communications Union (TCU/IAM) also represents tens of thousands of railroad members.
Our members primarily maintain and repair locomotives and track maintenance equipment, both in shop and on the line of road. They also perform complete overhauls of locomotives and assemblies and sub-assemblies used in all aspects of railroading.
A massive operational change is currently upending the railroad industry by threatening the jobs, health and safety of our members. It is also significantly impacting the massive freight network they help operate. That operational change is called "Precision Scheduled Railroading," or PSR.
PSR is a process to minimize the amount of times a train would be required to stop between destinations. In order to accomplish this, the railroads are creating longer trains, and in some instances, adding an additional 3,000 to 5,000 feet to their existing train length.
"PSR, as currently being implemented, is not safe or effective, and Congress should exercise its oversight to investigate," said Andrew Sandberg, IAM District 19 Assistant to the President/Directing General Chairman Rail, who represented the IAM with testimony to Congress. "We are concerned that current PSR schemes are detrimental to the long-term outlook of the rail industry, putting short-term gains ahead of long-term success, furloughing thousands while downgrading safety."
The Machinists Union supports efforts to efficiently operate our nation's railroads. We want our employers to be profitable, as profits leads to raises and quality benefits for our members.
However, PSR is designed to increase short-term profits for shareholders, at any cost. What was once scorned upon by industry professionals and executives is now being forced on the industry by Wall Street investors.
The IAM's main concerns are with meeting strict deadlines at all costs and reducing headcounts to deliver short-term savings to shareholders.
After implementation of PSR, understaffing and lay-offs have become all too familiar, with Machinists Union members being asked by management to do other craft jobs almost daily.
Management at railroads such as Norfolk Southern, Union Pacific and CSX Transportation expect our members to complete their normal tasks in the same timeframe as before, even though management are now asking members to do the tasks of the Pipefitters, Boilermakers, Carmen and utility workers as well.
"This environment is very unsafe as it creates an atmosphere of 'hurry up and rush' just to get a number out the door," said Sandberg.
The atmosphere on the railroad is increasingly one of hostility towards reporting any safety violations. For example, CSX Transportation's accident rate has increased despite the fact that the rate of train accidents for all Class 1 railroads nationwide is decreasing. Since 2013, the national rate has decreased about 6%, while CSX's rate has increased 59%.
Congress and the Federal Railroad Administration (FRA) must apply greater scrutiny to these Precision Scheduled Railroading practices.
"Our members report being overworked, stressed, and scared," said Derrick Battle, District 19 General Chairman. "They talk about drastic cuts to their shops while those remaining are being asked to perform double or triple the work compared to the pre-PSR era. Our members also cite increased safety violations, managers threatening job cuts if deadlines aren't met and being forced to ignore basic safety procedures."
A recent survey of members asked them to rate overall safety on a scale of 1-10, before and after PSR implementation. The results showed that before the PSR rail safety received an average score of 6.9 while after PSR implementation rail safety received an average score of 2.6.
"Congress and the Federal Railroad Administration must apply greater scrutiny to these Precision Scheduled Railroading practices," added Sandberg. "It's a business model loathed by workers, railroads, customers and communities. All the PSR does is enrich rent-seeking Wall Street investors, no matter the cost or disruption to the lives of our members, and the commercial transportation market they'll destroy in the process."
"The Transportation Department is committed to stand hand in hand and side by side with our members to fight any challenge that may arise in the airline and railroad industries," said IAM Transportation Coordinator Edison Fraser.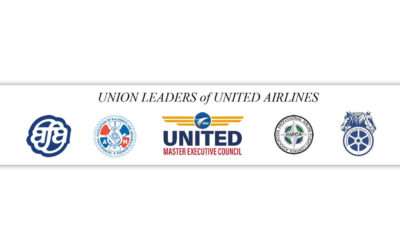 Important Letter from the...