Stay up to date with all the latest news and information from the Machinists Union

99% Flight Attendants at American Vote to Authorize a Strike
On Wednesday, the Association of Professional Flight Attendants (APFA) announced that American Airlines' flight attendants have voted in favor of going on strike if the company doesn't agree to fair contract terms.
According to the APFA, which represents over 26,000 flight attendants at the airline, a staggering 99.47% of the flight attendants have voted to approve a strike.
"Today, we sent a clear message to American Airlines management," said APFA National President Julie Hedrick. "We are fired up and ready for a contract. They ignore this strike vote at their peril," she continued. "Our contributions to the success of American Airlines must be recognized and respected."
The Union is asking to be paid for time spent on the job. Currently, American only pays the Union for the time they spend in the air; the time spent working while on the ground is unpaid. This is done at other airlines, such as Delta, which pays flight crews "boarding pay."
APFA is also asking for scheduling improvements and better work / life balance.
The vote doesn't necessarily indicate that a strike is on the immediate horizon. U.S. federal legislation sets high barriers for airline unions to legally go on strike. A federal mediator must declare that continued talks would be futile, a determination that is seldom made. Additionally, intervention from the President or Congress could further postpone or prevent a strike.
Should federal mediation fail to convince the company to offer the Union a fair agreement, the APFA has the option to enter a 30-day cooling-off period. After this period, the flight attendants would be permitted to initiate a strike.
Amid a strong labor market backdrop and growing public support for unions, unionized workers such as pilots, airline workers, and delivery drivers are experiencing increased leverage in negotiations.
Next week, a coalition of labor unions at United Airlines will hold a historic summit at the Machinists Union District Headquarters in Chicago. The meeting will include representatives from the International Brotherhood of Teamsters (IBT), the Association of Flight Attendants (AFA), the Air Line Pilots Association (ALPA), and the International Association of Machinists and Aerospace Workers.
Last week, American Airlines' pilots ratified a new four-year contract featuring over $9.6 billion in total pay and benefits increases. This move is part of the airline's competitive strategy against industry rivals like United Airlines and Delta Air Lines.
On August 9, following two years of talks, Transport Workers Union Local 555, the Union representing 19,000 Southwest employees in areas like ramp operations, provisioning, and freight, finalized an agreement with the Dallas-based airline. Pending approval from union members, the new contract would include increased wages and 12 weeks of parental leave, among other benefits. Union members are scheduled to vote on the agreement from September 8 to September 20.
Notably, the pay increases at Southwest are the same as those negotiated on behalf of thousands of Machinists Union at United. The new agreement would grant top-of-scale pay for ground workers of $36.72.
As travel demand remains robust, airlines are scrambling to increase staffing. This urgency has empowered workers to negotiate for better pay and improved work conditions.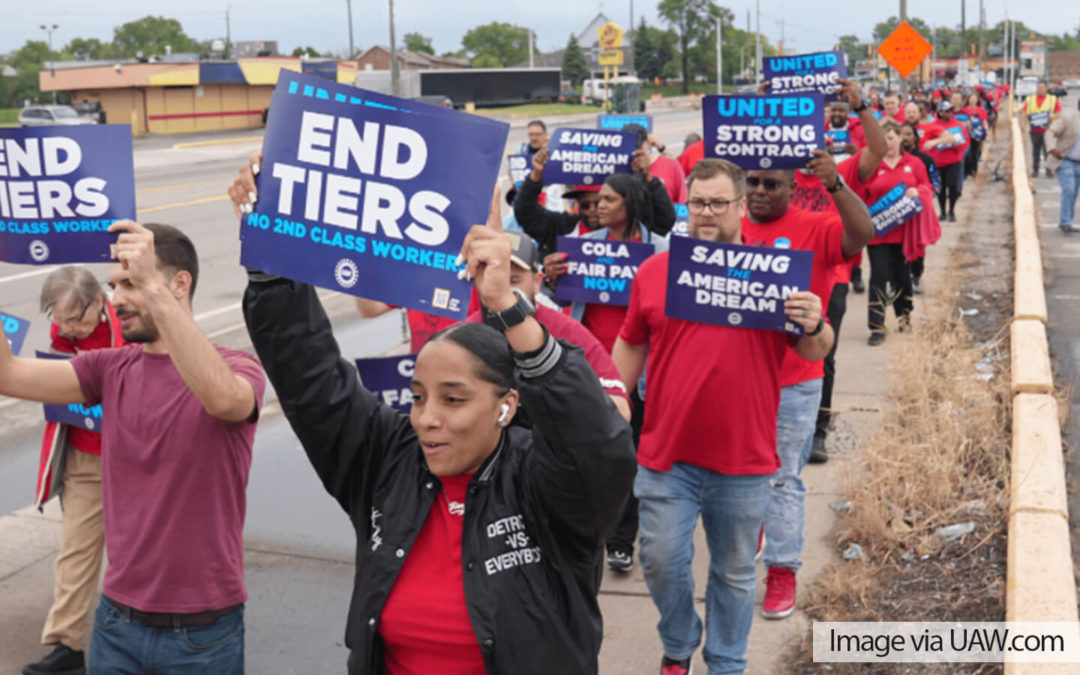 The United Auto Workers are currently engaged in a historic, nationwide strike action in pursuit of fair wages and ending the chronic exploitation of American manufacturing workers. Among the workplace improvements the union is seeking may seem far-fetched: a...