Señor Hayes:
La Asociación Internacional de Maquinistas y Trabajadores Aeroespaciales (IAM), Distrito 141, se ha enterado acerca del plan de jetBlue para subcontratar el trabajo de los empleados de jetBlue en "BlueCities pequeñas," las cuales no fueron identificadas en su anuncio. Me parece inconcebible que después de beneficiarse con aproximadamente $ 1 mil millones de fondos financiados por los contribuyentes para ayuda a las aerolíneas, usted ahora le dé la espalda a los trabajadores de jetBlue que han servido a nuestra nación con tanta valentía durante la peor crisis de salud en nuestra reciente historia.
Creo que es vital que todos sepamos lo que está pasando aquí. Usted NO está trastornando las vidas de estos trabajadores de jetBlue y cortando empleos debido a la demanda reducida por parte del público viajero. Usted está cortando TODOS estos empleados y está reemplazándolos con trabajadores A BAJO COSTO, quienes probablemente ganan un salario mínimo sin beneficios mientras hacen el mismo trabajo que los trabajadores de jetBlue. Esto es claramente codicia. Y peor aún, está utilizando la pandemia COVID-19 como excusa.
Le pido que tome el paso correcto y mantenga a los trabajadores de jetBlue en estas "BlueCities pequeñas". Estos trabajadores estuvieron presentes para nosotros cuando más los necesitábamos. Estuvieron presentes para cargar suministros médicos a vuelos, para transportar profesionales médicos a donde eran necesitados para cuidar a personas enfermas y han mantenido el funcionamiento del sistema de transporte aéreo de nuestra nación. Merecen mejor trato y deben permanecer empleados en las ciudades donde viven con sus familias.
En la carta donde anunció este plan tan erróneo a los empleados de jetBlue, el vicepresidente de "Airport Experience," Mike Parkinson reclama: "Nuestra prioridad es cuidar a los Crewmembers afectados." Si realmente quiere cuidar a los empleados de jetBlue, no les quite sus trabajos y no vuelque sus vidas y las vidas de sus familias. Déjelos que trabajen donde viven. 
Le aseguro que la IAM hará todo lo que esté en nuestro poder para luchar contra este plan tan increíblemente cruel.
 Cordialmente,
President & Directing General Chair
IAMAW District 141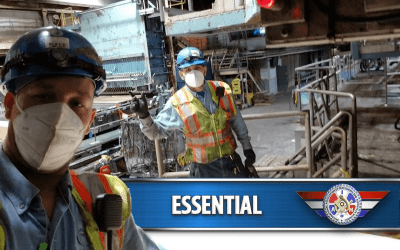 The IAMAW, along with a...